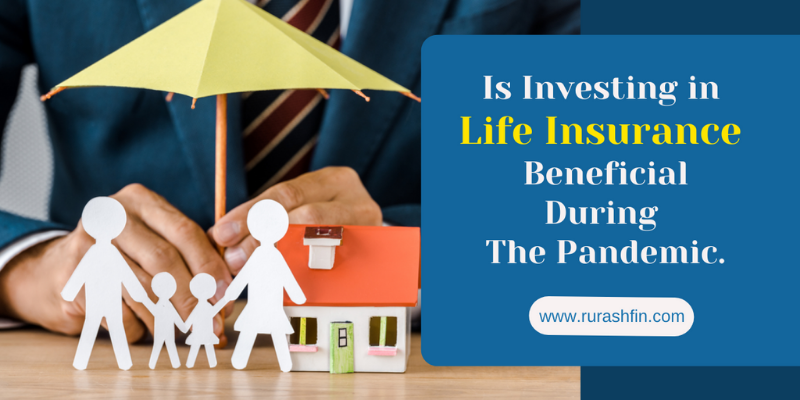 Rurash
10 Dec,2021 /
0 Comments
Life is full of uncertainties. Individuals face numerous risks in everyday life, including threats to life, health risks, accident risk, property risk, and many more. We cannot escape from these eventualities but rather protect our wealth during these circumstances. One such financial product which helps us in protecting our wealth during unforeseen situations is Insurance. 
Hence insurance shouldn't be considered as an investment product but a must-needed risk-mitigating product.
What is insurance?
Insurance is a financial product where a group of people pool in their own money (paid as premium) for covering a particular risk (Health, Life, Motor, etc.), which is usually managed by insurance companies. These funds are used to pay for all or part of the cost as agreed upon as per the policy in case of any eventuality occurring to any member of the group. The overall framework is regulated by IRDAI in INDIA. The advantage here is we pay a small premium annually and we will be able to cover huge losses during any unforeseen emergencies.  
Coming to Life Insurance, the name itself explains to us it is a cover provided against one's own life. One needs to look into buying a life insurance for the reasons below:
Financial Security:

Some of the Life Insurance plans are a shield against financial instability. In an unexpected event like critical illness or any kind of disability, there will be an impact on one's own economic condition. In such cases, the insurance companies are ought to be paying the compensation for one's economic loss.

Protection: 

One's demise in a family cannot be compensated by anything. In such cases, life insurance assures financial protection for the family. 

Debt cover:

 You can also use insurance to settle loans, credit dues, etc.

Tax advantage:

The policyholder can claim up to Rs.1.5 lakh in a calendar year under Section 80C, Income Tax Act, 1961. In addition, the maturity benefit is also exempted from tax under Section 10 (10D).
What kind of policy should you purchase? 
If you are the only earning member of the family, life insurance is a must buy. There have been many options to be considered while buying a life insurance policy. They are:
A Term Plan without Maturity benefit.

An Endowment Plan with Maturity benefit.

Money back Policy.

An Annuity plan for periodic payments.

ULIP (Unit Linked Insurance Plan) with returns.
There are so many combinations of policies in the market and people end up buying the wrong policies or which are not suitable for them. If you are not sure of which policy you should buy consult your Financial Advisor or feel free to contact RURASH Financial Pvt Ltd. We will help you out with a free consultation for insurance based on your financial requirements. 
Importance of Life Insurance amid COVID Pandemic
The pandemic, COVID-19, has changed lives across the globe, whether it is lifestyle or wealth management plan. The ensuing global pandemic has made individuals realize the importance of health and life insurance as a protection instrument rather than a tax-saving instrument. A life insurance plan brings financial security for families in such an unprecedented and unstable period.
The uncertainties in today's world along with the living style of humans have been a cause of concern about one's life expectancy. As a recent example, the treatment cost for COVID patients is high for an average middle-class person. This cost can end up paying up to Rs.2 Lakhs without a ventilator, and it is considerably higher with ventilators for covid treatments. The expenses that can arise out of the disease treatment differ in public and private hospitals, but these generic costs can provide an insight into the huge treatment costs. Therefore, health insurance plans are for the purpose of Health-treatments and life insurance plans for protecting our families are unavoidable at these times.
Adequate Insurance
In today's situation, every individual has at least a single insurance policy which would be sold by our friends, relatives etc. But the question is that "if the Sum Assured we currently have is suitable as per our current financial needs?" 
The answer for this is mostly No. Every individual needs adequate insurance reasons being very simple:
It comes with peace of mind. Life insurance is a financial cushion that lets you steer away from financial hard times.

It protects a family in case of a demised provider due to COVID or any other reason. Adequate life insurance can offer them the required financial support for the next 15 ~ 20 years or until the next generation takes over the financial responsibilities.

It covers the expenses of children in case of the provider's demise. Their life will not be affected due to finances, and they can carry on with their lives and pursue higher education.
What Insurance Statistics Shows 
There are 24 life insurance companies in India. Cumulatively, all life insurance companies' premium income has risen from April -June 2021-22 by 6.87%. 
Based on data from IRDA (Insurance Regulatory and Development Authority), life insurance companies have reported a rise in premium income by nearly 4% to Rs 30,009.48 crore in June 2021. In June 2020, it was recorded at Rs 28,868.68 crore. The number of new policies issued was 2415.09 Lakhs in 2019-2020. The Life Insurance Corporation of India (LIC) is the largest of all life insurance companies, comprising 12.55% of the industry. Except for LIC, all remaining 23 life insurers reported a jump of 34% in 2021. 
As per the data issued in the Handbook of Indian Insurance and Statistics (2016-17) by the IRDA, only 328 million Indians had life insurance in 2017. In India, the protection margin is one of the highest 'Protection Margins' in the Asia-Pacific region. It means that a family requires Rs.100 for protection in case of income loss, but they have only Rs.7.8, a gap of Rs.92.2. 
Balanced Investment Portfolio with an Insurance Plan
Or
Tactical Asset Allocation Investment Portfolio with an Insurance Plan
You can strategize your investments with RURASH Financials to achieve your financial goals. RURASH is a renowned name in wealth management services. We offer financial solutions with our 20+ years' professional experience to augment your wealth. At present, the firm comprises 200 crores as Assets Under Management (AUM). You can invest in unlisted offerings by 100+ companies.
In the space of investment opportunities, RURASH can help you with best-suited insurance with an adequate premium for tax benefits and also prepare a well-diversified portfolio with the following investment options: 
The stock market has numerous opportunities to make profits. Over the last four decades, analysts have recorded a CAGR of 17% at BSE Sensex. 
Unlisted securities are hidden gems with a huge potential of providing high returns. It requires skilled investment managers. 
Mutual Funds are a great tool to minimize the risk involved in the stock market. There are numerous funds categorized as Equity funds, Hybrid funds, Debt funds, Equity Linked Savings Schemes (ELSS), Exchange-Traded Funds (ETFs), etc. 
You get well-researched recommendations on debentures and bonds with AAA – A ratings of credit agencies. They have researched and featured bonds offering a high yield of up to 9 % with moderate to nil risk.
A demat account is a mandatory account to invest in the stock market. With an online demat account, you can simplify your investment documentation. 
Thus, the pandemic has pronounced insurance as the necessary financial instrument from the perspective of safety. For great financial stability, stay invested and include life insurance in your wealth management.
You can get in touch with RURASH Financial Services for wealth management with lower taxability.