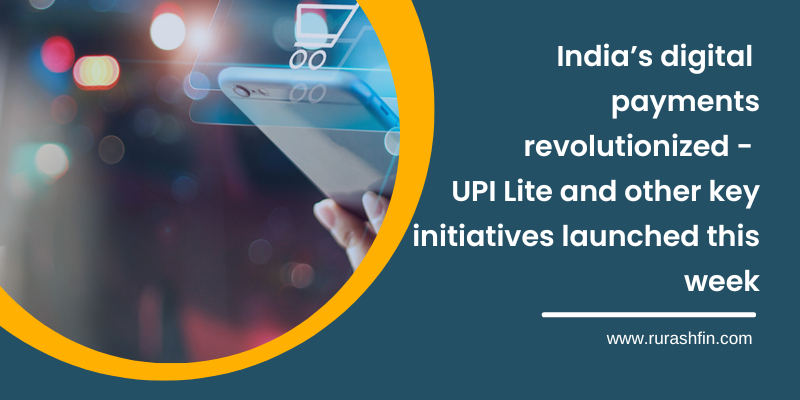 Rurash
26 Sep,2022 /
0 Comments
The Global Fintech Fest 2022 in Mumbai on September 20 witnessed the launch of three digital payment initiatives by the National Payments Corporation of India (NPCI). 
RBI earlier announced these initiatives during the previous monetary policy announcement, including RuPay Credit Card on UPI, UPI LITE, and Bharat BillPay Cross-Border Bill Payments.
The RBI governor, Saktikanta Das, Nandan Nilekani, the non-executive chairman and advisor to NPCI, and Biswamohan Mahapatra, the chairman of NPCI, released these launches with a demo, which will become the cornerstones of India's digital payments revolution. 
The three launchers in the event are: 
RuPay Credit Cards on UPI 

UPI LITE 

Bharat BillPay Cross-Border Payments 
The RuPay Credit Card on UPI 
The RuPay credit card on UPI is bound to benefit both customers and merchants and thus is a win-win situation as customers will have an increased opportunity to use their credit cards and merchants will benefit from the increased consumption. It was also announced that these credit cards would be linked to the Virtual Private Address (VPA), which will expedite Safe and seamless UPI transactions. 
India carries the potential to reach 30 Crore credit card users by 2026 and is working on increasing acceptance and usage of credit. This aims to be a one-stop shop for all credit needs. Punjab National Bank (PNB), Union Bank of India, and Indian Bank are the pioneers in using this application supported by BHIM App. Before this, only debit cards were allowed to be linked with UPI. With the linkage of RuPay credit cards, UPI users will now have an additional option to use their credit cards. 
Testing the waters of credit 
Numbers suggest that India functions on low-priced transactions, with about 50% of transactions below Rs 200. Thus, with the launch of UPI LITE on the BHIM App, users will be able to transact in a near-offline manner. The main objective here is to reduce the load on the banking servers and systems and increase the success rate of transactions.
UPI LITE Transaction Limit
UPI LITE will have an upper limit of Rs 200, and the total limit for a UPI LITE on-device balance will be Rs 2,000 at any time. UPI LITE will help in better testing the waters of credit in India. Users will not need a UPI PIN to make payments via UPI Lite. 
Who can use UPI Lite now?
The UPI Lite feature under the UPI service has been enabled in the BHIM app. About eight banks are live, including Canara Bank, HDFC Bank, Indian Bank, Kotak Mahindra Bank, Punjab National Bank, State Bank of India, Union Bank of India, and Utkarsh Small Finance Bank. 
Can we use UPI Lite without an Internet connection?
In the first phase, UPI Lite will work almost without an internet connection. (Debit) payments will be made without an internet connection, but (Credit) payments to accounts will be made online. However, NPCI has a plan to make UPI Lite offline so a consumer can process transactions, both debit and credit, in a completely offline mode.
How can we add funds to UPI Lite? 
The important thing to remember here is that you can only add funds to the UPI Lite wallet in an online mode (an internet connection is required) with an additional factor authentication (AFA) or using UPI AutoPay, which the user has registered in an online mode with AFA. 
Things to remember when using UPI Lite

Transactions other than top-ups will not be reflected in the bank account statements. The user will receive an SMS containing the UPI Lite transaction history daily. 

If there are any disputes or discrepancies related to the enablement, top-up, or disablement of UPI Lite, they will be referred to and handled by the issuing bank. 
How will UPI Lite help the users?
UPI Lite aims to make low-value transactions faster, simpler, and more efficient for users. This way, customers do not have to carry loose cash or change. This will benefit customers by supporting these micro-transactions with an almost zero failure rate, even at peak business hours.
Bharat BillPay, Cross-Border Bill Payments 
With the RBI and NPCI's new rupee drawing arrangements for cross-border remittances through the Bharat Bill Payment System (BBPS), NRIs can easily pay utility, water, and phone bills for their families in India. 
The RBI, in a notification to all category-1 authorized dealer banks, stated that 
"It has been decided to allow foreign inward remittances received under the rupee drawing arrangement (RDA) to be transferred to the KYC-compliant bank account of the biller (beneficiary) through the Bharat Bill Payment System (BBPS)."
Currently, the foreign inward remittances received under the Rupee Drawing Arrangement (RDA) are allowed to be transferred to the KYC-compliant beneficiary account via electronic transfer of NEFT, IMPS, etc.
The RBI came up with the idea for the Bharat BillPay System, which is run by the National Payments Corporation of India (NPCI). It is an all-in-one destination for different bill payments, including but not limited to electricity, gas, water, and DTH. It offers platform interoperability for standardized bill payments, a centralized customer grievance redress mechanism, a uniform convenience fee, and more. 
The RBI Governor stated when announcing this move that it will primarily benefit senior citizens. 
Earlier in the month, it was reported that the government intends to keep transactions through BBPS free. The government also told the Indian Banks' Association and the National Payments Corporation of India (NPCI) to take action against entities or players who charge a fee for BBPS transactions.
During his speech, the RBI Governor also assured Fintechs that the Central Bank will support their innovations. 
Excited to know more about the fintech startups and those you must invest into? Connect with our relationship managers here or mail to: invest@rurashfin.com