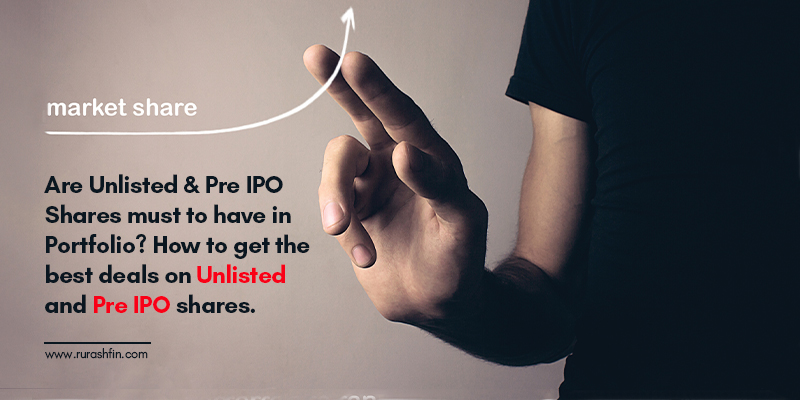 Rurash
04 Sep,2021 /
0 Comments
Unlisted shares are generally shares issued by publicly limited companies but not listed on exchanges like NSE/BSE.
Sometimes these companies have just converted from Private limited to publicly limited companies as they file Draft Red Herring Prospectus before listing the company.
Is it Beneficial to Buy Unlisted Shares in 2021?
Yes! There are several benefits to buying Unlisted Shares in 2021. Here are some of the benefits and reasons why you should be investing in Unlisted Shares:
1. Liquidity
The unlisted markets today are as liquid as the publicly traded companies. Infact, Unlisted shares are traded over the counter round the clock and offers 24*7 liquidity.
2. Ease of trade for Unlisted Shares
Unlisted shares are much simpler to trade than listed shares. There can be an instant trade settlement for unlisted trades. Companies like Rurash Financials offer digitized Platform for unlisted trades.
You just need to have a demat account along with Pan card and Address proof in soft copies.
3. Higher profits
Recently, there was a great hype around the Zomato IPO before its listing. Millions of investors all over India applied for it in the hope of both short-term and long-term profits. The fortunate ones who got the IPO allocation and created wealth for Zomato shareholders. As soon as the stock got listed, its price almost doubled. Investing in unlisted shares not only offers the prospect of higher returns and wealth creation but also offers diversification..
4. Opportunity to invest early in winners
If you invest in unlisted shares of successful startups, the probability is better returns are higher compared with listed blue chip stocks. The unpredictability can be a little overwhelming. That's what experts at Rurash are there for. If you have apprehensions about investing in unlisted shares, a dedicated team of investment experts will help you to answer and resolve all your questions.
While investing in unlisted shares with high growth potential, it's important to keep the shining object syndrome away. When you consult investment experts, they help in eliminating a clouded judgment that comes from too many opinions flying around. Needless to say, returns on unlisted shares can easily beat returns on even the best listed equities.
How to Get the Best Deals on Unlisted Shares?
At Rurash, you will be able to get in-depth unbiased analysis with research on all major unlisted shares that you can get. The team makes sure that you are investing money in the best companies that have the potential for better and higher returns. This can benefit the new investors by participating in the company's future growth.
You can get in touch with our team and they will share all details on Unlisted shares that you might be interested in trading. You will be asked for the CMR/CML copy that you get from the share broker. Once you transfer trade amounts in the bank account you will receive shares in your respective demat accounts.
Not only that, but Rurash also provides you detailed and well-researched articles and news on unlisted shares. With the help of our experts, you can analyze some patterns that will assist you in making informed investment decisions.
Conclusion
The best thing about investing in unlisted shares is that they are equally beneficial for both short-term and long-term investors. A healthy growth rate combined with industry-leading prospects for the future are some additional benefits that make investing in unlisted shares rewarding. However, the investor needs to consider that some of the companies are wealth maximizers as these companies grow over 30% per annum for so many years.
Some of the companies that have delivered extraordinary returns are Studds Accessories, Paytm, Reliance Retail, ICICI Lombard, etc. Get started with Unlisted Securities now.