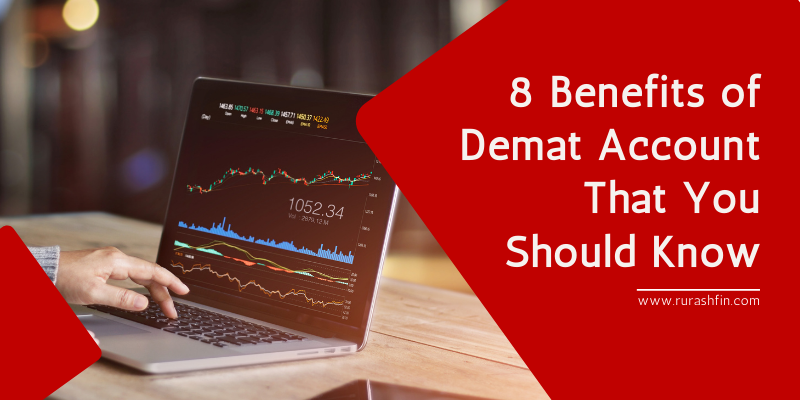 Rurash
17 Mar,2021 /
0 Comments
It's no secret that technology has made the world an overall better place to live. Earlier, any financial errand turned out to be a cumbersome task considering the sheer amount of paperwork involved. It's hard to imagine that there used to be a time where the physical form was the only way to exchange shares.
This was, in fact, one of the prime reasons why people shied away from investing in the stock market. Of course, besides the fear of risk. But now that the virtual world has come to our rescue, people can electronically buy and sell shares.
Thanks to a Demat account, you can keep your assets in a dematerialized form. Meaning, you do not have to go through the hassle of handling physical documents. The fear of damage/theft is minimized. Demat account is also a secure hub for your hard-earned savings in addition to a safe form of entry to the share market. On that note let us take a look at the eight striking benefits of a Demat account that you should know.
1. High Versatility
If you are thinking that a Demat account was only for stock market investments, get ready to expand your horizons. You can hold securities such as mutual funds, bonds, shares, exchange-traded funds, government securities, and even your savings in a Demat account. All in all, it's a vault where you can safely keep all the assets you wish to diversify.
2. Reduced Risk Factor
If all your financial documents are in paper form, the likelihood of misplacing them rises. Moreover, forging financial documents becomes difficult with a Demat account. Not to mention, you do not have to fret over ink or paper damage such as stains and decays. Even in case of an unexpected hazard, all your security details are safe and secure online in your respective Demat account.
3. Easy Access and Dematerialization
A Demat account provides easy access to the details about your statements and investments online. Regardless of the device you are using and your location, you can access them with a few clicks or a few taps. As for dematerialization, if you possess assets and certificates in physical form, all you need is to request your depository participant to convert them to an electronic form. The ready reckoner information also enables you to make prompt decision and faster trade settlement.
4. Globalizing the Indian Market
Earlier, investing in the Indian stock market or mutual funds used to be a nightmare for foreign investors. But thanks to the rising awareness about Demat accounts, NRIs have been signing up and leveraging the power of the untapped growing Indian economy.
5. Easy Share Liquidity and Loan Against the Securities
As compared to a bank loan that requires plenty of formalities and paperwork, a Demat account helps investors get a loan against their securities. Moreover, if you ever need some in-hand-ready cash liquidating your stocks takes just a few moments.
6. Reduced Cost and Time of Handling Securities and Assets
Due to the elimination of physical documents and certificates, Demat account holders do not have to bear additional charges. Some of them include handling charges and stamp duty. Moreover, the time needed to complete a transaction is far less than what it is if there's a lot of paperwork involved. This increases the efficiency of the Demat account holder for or buying and selling securities in a shorter time duration.
A Demat account also makes it easier to receive dividends, refunds, bonus shares, split shares, interest and other corporate actions taken by the company. It has become a cakewalk, thanks to their auto crediting in the Demat account. Do we even need to calculate the time wastage that occurs with constant calling and emailing your stockbroker? Why pick up the phone for every little concern when a Demat account will help you work with the speed of light!
7. Free of TDS calculations
You do not have to worry about tax deduction at source on your Demat securities. When you receive interest on your securities and bonds, TDS calculation is taken care by the respective companies. Your security can be listed/unlisted companies.
8. Stock Lending and borrowing. (SLBM)
You can earn up to 8 – 9% annualized risk-free return by lending your shares on NSE approved mechanism to borrower without deploying any cash. It's like a risk-free investment on zero investments. However, you will need a Demat account to lend your shares. Physical shares cannot be lent.
Final Words
It will not be an overstatement to say that times have been more uncertain than ever. Gone are the days when you could just keep six months of emergency savings and live paycheck to paycheck. Not building sufficient wealth for your future makes you just one step away from an unexpected financial crisis.
While the above mentioned are the eight most obvious benefits of having a Demat account, it is viable to go for something that offers greater value. For instance, Rurash offers a depute personalized wealth custodian to each user.
It's no secret that personalization is beneficial. Plus, when it comes to financial matters, it is just the cherry to the icing you need! So, sign up for a Demat account and build your investment portfolio according to your individual requirement. Set back, relax, and watch your wealth grow!