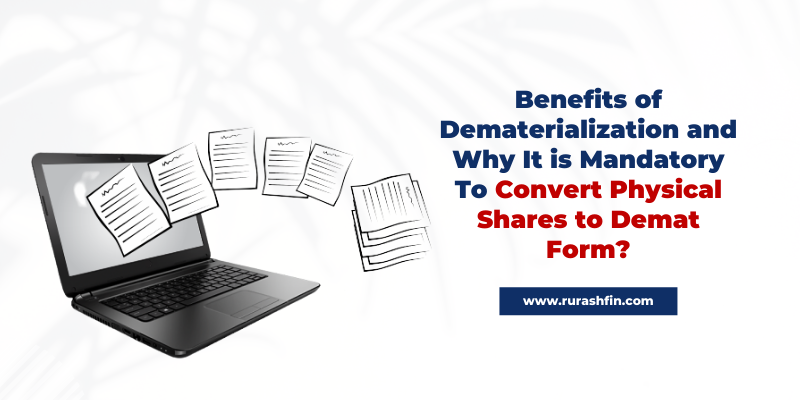 Rurash
25 May,2022 /
0 Comments
Why it is Mandatory to convert Physical Shares to Demat form?
Trading and investing in the Indian stock market have been easier since the establishment of a Demat account. Physical share certificates have been rapidly dropping since the advent of Demat accounts and computerized share trading in India. The Securities and Exchange Board of India (SEBI) has stipulated that corporations only issue shares in dematerialized form, rather than actual certificates. The process of turning physical shares into electronic format is known as dematerialization.
Before transacting in the Indian financial market, you must first open a Demat account. All of the concerns connected with keeping shares or securities in physical form are eliminated with a Demat account. The significance of a Demat account will be discussed in this piece. Before getting onto benefits, let us first understand the process of dematerialization in detail –
What is Dematerialization?
Dematerialization of securities is the way of converting a company's physical share certificate into an electronic format. These dematerialized securities are then held in an online dematerialized form with a depository where you open your account. In today's stock trading environment, share dematerialization is required in order to sell or transfer your shares to another account.
Why is it necessary to convert physical shares to a Demat form?
An Individual can no longer deal in physical share certificates, according to the union government's guidelines. The physical share certificates must be converted into a dematerialized (Demat) or electronic version by the investor. That was previously announced by the Securities and Exchange Board of India (SEBI). This will make the process of buying, selling, and transferring a company's shares easier for investors.
What are the benefits of converting Physical shares to Demat form?
1. Protection – The most reliable and confidential way to conduct electronic transactions is through a dematerialization account, also known as a Demat account. All of the risks associated with holding shares in physical forms, such as theft, damage, and loss of share certificates, are fully eliminated.
2. Convenience – A Demat account allows you to do transactions online. To complete a transaction, you do not need to be present physically at the broker's location. Furthermore, the client can use a computer or a mobile to manage his or her Demat account. You can also convert your physical holdings to electronic form to become the legal owner of your stock.
3. Electronic Transactions & Payments – One of the most significant advantages of a Demat account is that it eliminates the need for paper. Because a Demat account is used to hold stocks or investments in digital form, there is no requirement for paperwork. Furthermore, the Demat account has shown to be quite beneficial to businesses in terms of lowering expenditures and difficulties. Also, reducing paper consumption is helpful for the ecology.
4. Take advantage of the credit facilities – The Demat account allows you to borrow money upon your dematerialized assets. Stocks and securities stored in a Demat account can be used as collateral to qualify for a loan.
5. Facility for Nominations – When you are unable to carry out transactions in your Demat account yourself, you can appoint someone to administer your account on your behalf by filling up the power of attorney. And therefore, A Demat account can be held by multiple people at the same time. If you want to open a Demat account for at least 1 individual, you need to do that when you open the account. Further, if you're unable to access your Demat account, you can delegate the ability to manage it to a nominee (in cases such as death).
6. Monitoring – You may monitor your portfolio from your residence, work, or from somewhere else in the world with the help of a Demat account. Because of the increased engagement and interest, the ability to track investment efficiency increases your chances of more earnings.
7. Getting Corporate Benefits Is Simple – Demat accounts make it easier to receive corporate advantages such as dividends, income, and repayments. The entire benefit amount is credited to the Demat account. Other benefits, such as stock splits, bonus issues, rights shares, and so on, are also updated automatically in the Demat account.
8. Odd Quantities are no longer a problem – Shares and securities could only be traded in a certain number before the creation of a Demat account. The number of shares you wanted to sell was not available. The problem of odd lots has been fully eliminated since the advent of the Demat account. You can now buy or sell any quantity you want.
9. Numerous Features – You can keep other financial products as well as shares or equities in a Demat account. You can also use the Demat account to buy, hold, and sell mutual fund units. You can use your Demat account to buy government bonds, ETFs, and other securities.
How to convert your Physical shares into Demat form?
Step 1: Open a Demat Account
To begin the process of converting your physical shares to Demat format, you must first open a trading account with a Depository Participant (DP). Several DPs, such as Rurash, provide online services to open a Demat account and a trading account.
Visit DP's website
Fill in the account opening form
Fill up the KYC form along with the account opening form & also attach the required scanned copies of documents.
After reviewing the appropriate charges and terms/conditions, sign and submit the form.
Your application will be submitted by the DP after all of the required documents have been provided. After your Demat and trading account application has been approved, you will be provided a unique user ID and password to manage your brokerage account, as well as a Demat account number.
Step 2: Make a request for dematerialization
Once the Demat account has been approved, you can then request the conversion of your shares in electronic form. To do so, you need to –
Connect to your DP for getting the DRF i.e., Dematerialization Request Form. Once received, fill in the details & submit them along with your certificates to your DP.
When your DP receives the DRF and the surrendered physical share certificates, he or she will handle your request.
Further, your DP will then process this request to the Registrar & Share Transfer Agent (RTAs). RTAs verify the documents & proceed with the request ahead.
Lastly, your physical share certificates will be shredded after your dematerialization request is confirmed, and your Demat account will be credited with the appropriate amount of shares.
Conclusion
As you could see from the preceding description, the dematerialization of shares has made the previously complex process of stock trading much easier. While dematerialization appears to be a daunting task, it only necessitates minimum user involvement. It's likely that the complete process of converting physical share certificates to Demat format will take 2 to 3 weeks. Once your Demat account has been funded, you can sell or transfer your shares whenever you like.
RURASH is amongst the best Indian investment management firm, providing financial solutions to augment the client's wealth and facilitate building a legacy.
For any guidance regarding financial instruments, Connect with the relationship manager now on Call at +91 22 4157 1111 or write to: demat@rurashfin.com.
Also Read: The Process of Demat Account and Conversion of Physical Share Certificates to Demat form