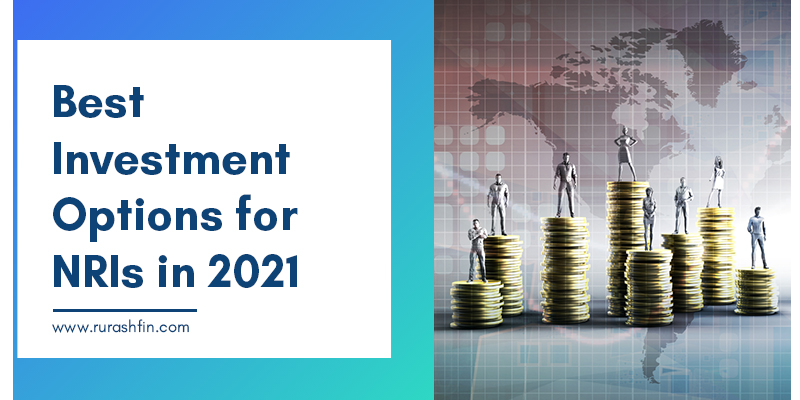 Rurash
23 Dec,2020 /
0 Comments
In recent years, India has become a preferred destination for international investors looking at developing countries and economies. Investments made by NRIs are generally treated as 'foreign investment' from the Indian foreign exchange regulations perspective.
The selection of investment instruments by Non-resident Indians (NRIs) primarily depends on their risk metrics, investment horizon, asset allocation strategy, and tax liabilities.
NRI investment is likely to increase all the more in 2021 and beyond. The market is rising and the economy has started to adapt and survive the new normal. India will be an attractive destination for everyone in terms of investment.
From Investments to Wealth Management and Portfolio Management, experts at RURASH serve all personalized financial concierge services to the NRI investors. We personalise and tailor these offerings to the needs of our non resident clients.
Team Rurash as the wealth custodians understand the value of your hard earned money and advise you the best. The financial concierge services for NRIs are customized according to the risk appetite of the investor. NRI services include cross border remittance, legacy planning, retirement planning, legal consulting, concierge services, trustee services, legal consulting, retirement planning etc. We offer the best Demat experience along with time to time reviews and rebalancing if need be
For those who are new to exploring the domain of personal finance, we coach and hand hold through risk profiling, financial goal setting etc.
The documentation and details are managed in the most detailed way for the NRI family trusts, family office management and family portfolios.
2020 has been a year of ups and downs for the investors. The year was overwhelming for people across the globe. The pandemic brought in confusions, anxiety and depression among the businesses. This led to layoffs, pay cuts and global lockdowns. Owing to the confusions and anxiety that the year brought in, the following were the –

Common Investing Mistakes of Year 2020
Crisis equals opportunity: While equities were taking a hit in March, Financial experts believed "Crisis equals opportunity'. This remains the truth of the equity market they are seldom fairly priced. Being invested was the mantra in 2020. Panic selling will always end up in losses.

Stopping and starting your SIP is never a good idea: In march the panic situation made so many investors stop their SIP. Worst thing to do. SIP works on rupee cost averaging. So there's no loss, The money is invested for a longer period of time the investment is averaged out. The best way to earn long term risk, adjusted returns is to be dispassionate, and allow rupee cost averaging to work its magic.

"Time in the market" beats "Timing in the market: Investors who invested in 2017 found themselves deep in the clutches of the loss aversion bias by the middle of the year. Two and a half years ago the portfolio's were red. It has taken mere 90 days for those two and a half years of negative CAGR to turn not just net positive but double digit growth rate! Time in the market really beats timing in the market.

Goals make all the difference: 2020 reinforced the fact that goal-based investing is much better. Investors with goals will never be affected by panic situations. For example if someone is investing in SIP for his/her retirement then it's a long term investment and that person is less prone to the market panic.
We will soon be entering 2021 and it's time to plan your investments too. For the New Year following will be –

Best investment options for NRIs in India 
Fixed Deposit: FD's are totally risk-averse and the safest option. Also in India the interest rates are higher. So this becomes a safe investment. Nothing to monitor and the returns are fixed.

Mutual Funds: Mutual funds possess moderate risk. They offer higher returns than FD. NRIs can invest in mutual funds only through their NRO or NRE accounts. You need to invest in Indian rupee. Rate of return depends on the fund invested in.

Equity: Aggressive investors can always go for the stock market. NRIs can invest in Indian stock market directly under the portfolio investment scheme(PINS) of RBI. NRI's are mandated to have an NRE/NRO account, bank accounts, demat accounts, and a trading account to invest in the Indian stock market.

Listed Stocks: A company whose shares are traded on an official stock exchange is called a listed company and the shares belonging to these companies are listed stocks. Example HDFC Bank, Kotak Mahindra Bank etc
Unlisted Stocks: Unlisted companies are privately owned companies that have not yet gone through the Initial Public Offering (IPO) process. Example Reliance Jio, Ola, OYO etc. Main advantage of investing in this unlisted stock is access to new innovation. If you want to invest in these unlisted stocks then Rurash is the right place for you.

Public Provident Fund: PPF is a government-backed scheme. Both resident and non resident can invest in PPF. Current rate of PPF investment is 8 percent. PPF has a lock-in of 15 years and the maximum amount that can be invested is INR 1.5 lakhs a year. This offers tax deductions in section 80 C.

National Pension Scheme: Another government-backed scheme. The amount accumulated at the time of maturity is completely tax exempted. NPS offers an annual return of 12 percent to 14 percent. The investment can be done between 18 years to 60 years of age.
The investment market is all about patience and being vigilant.
Having a wealth custodian to manage your personal finance and investments will keep you away from all the financial turbulences. Our motto at RURASH is to help our clients, 'Invest in Wealth and Build a Legacy'.
With year end reviews and new year plans, we have started rolling the wealth creation journey for our investors. If you too wish to make the most of 2021 and are ready to turn the tables, connect our team of experts to know all about NRI Investment options as well as the financial concierge services now. Connect here or drop a mail to invest@rurashfin.com