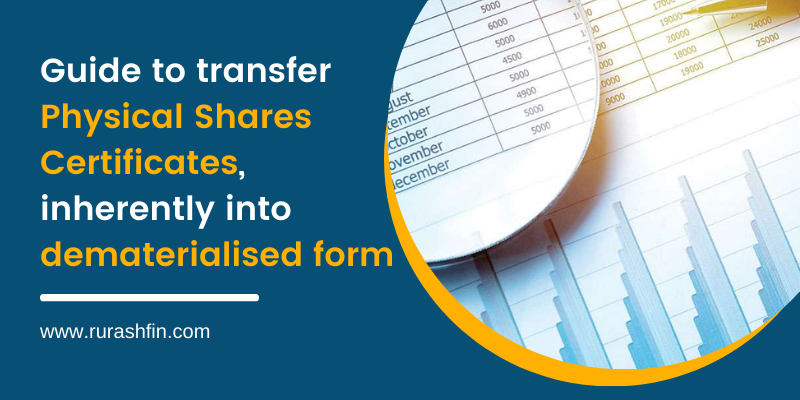 Rurash
27 Jul,2022 /
0 Comments
It is quite possible that you may have inherited or someone in your family may be in possession of physical share certificates. Even though your parents may have the ownership and you may inherit them, unfortunately, they will not be inherited by you in reality, unless they are in dematerialized form. 
According to a circular of the Securities and Exchange Board Of India (SEBI) in April 2019 circular, the request for transfer of shares can not be processed unless they are in dematerialized format. 
Though there are two exceptions to it:
1. Transmission of Shares 
2. Transposition of Securities 
Transmission refers to when the ownership of titles of shares gets transferred via inheritance or succession.  Transposition is when there is a re-arrangement in the order of the shareholders. 
To trade your physical shares you first need to convert them into a dematerialized form. Dematerialization is a process of converting Physical shares of a company into a dematerialized form which would be held in a Demat account. But you should keep in mind that you can only convert physical shares of a company which is active and listed on the stock exchange.
So in case you have shares of a delisted company, you've missed the train and now they're only worth the paper they're printed on. But if the company still happens to be listed and it is trading then this article contains a complete step-by-step process guide to convert those physical shares into dematerialized form.
What is a Demat Account?
SEBI in 1996 introduced dematerialisation and revolutionized the whole stock trading, finance, and world of shares in India. The open-out-cry system was stopped and electronic trading was introduced which mandated the physical shares to be converted into an electronic format through a Demat account.
Demat refers to a dematerialised account wherein Dematerialization is a process through which the physical shares and securities are converted into electronic format. Thus the investors can, without hassle, hold, trade or transact financial securities. This process made trading much more convenient, safer, easier, and more efficient. 
What is the Dematerialisation Process? 
It is the process to convert physical share certificates into electronic or dematerialised format. SEBI also mandates that all physical share certificates be converted into an electronic format through dematerialisation. 
This process has four parties to it:
Depository

Issuer

Beneficial Owner 

Depository Participant
The depository participant (DP) is essentially an agent of the depository that operates your Demat account. The DP's primary function is to provide you with an interface between you and the depository. These depository services can be taken from any of the available Depository participants the same way you can take banking services from any of the branches of any bank.

The physical shares or debentures you may have can be converted electronically and held or dematerialised at any of the depositories.  A depository essentially holds all forms of financial securities such as shares, bonds, debentures, government securities, mutual funds units etc. of the investors in an electronic form upon the request of the investor.
National Securities Depository Limited (NSDL) and Central Depository Limited (CDSL) are two major depository institutions that are licensed and registered with SEBI to operate in India. 
In simple terms, Dematerialisation is like keeping your money in the bank. Your physical shares get converted electronically and converted into digital book entries. This way when you make a purchase of any share, it is reflected as credit and whenever you make a sale it is reflected as a debit.
1. Open a Demat account 
You can easily open a Demat account with any of the depository participants such as Rurash Financials Private Limited, by submitting your KYC documents such as address proof. 

Most of the depository participants such as banks, stock brokerage firms, and even government companies, allow you to open a Demat account online and accept the submission of scanned KYC documents.

Demat account will be opened in the names of all of the shareholders, in case it is a joint account, the holder of holding will be exactly as that of in the physical shares. 
2. Surrender your physical shares along with the DRF form 
Once you have opened your Demat account, you can easily place a request for conversion of your physical share certificates into dematerialised format via a Dematerialisation Request Form (DRF). 

You would need to contact your DP for the DRF. 

Fill up the DRF with all of the required information and sign it.

Submit the form along with your physical certificates and do not forget to write 'surrendered for dematerialisation' on the physical certificates.

After your DP receives the surrendered physical share certificates along with your DRF, it will process your request. After this is done, a dematerialisation request is sent to the Registrar and Share Transfer Agent (RTA) of the concerned company. 

Once the due process has been completed, The physical certificates are disposed of and the required shares get credited into the Demat account.
Final Thoughts 
The Indian Capital Markets does not find physical shares valid anymore and does not recognize their identity and legality, because of the mandate to convert all of the physical shares to electronic format. Even though you still are the owner of the physical share certificates you may have but you cannot trade them. If you want to trade the shares which you have in the physical form you would need to dematerialize them through the dematerialisation process mentioned above i.e. by first opening a Demat account and then raising a request for dematerialisation via your Depository Participant. 
While this whole process might seem to be lengthy at first, with Rurash's expert support all of this would require your minimum intervention and would take approximately 2-3 weeks time. Once your Demat account gets credited with the shares, you'd be free to sell, transfer or trade them as you deem right. But if you keep them in physical format for long, there are a few risks associated.  hold value only as long as the company is listed and is actively being traded on the exchange, if it gets delisted, the value of the shares would be worth nothing.
RURASH is one of India's trusted investment management firms, providing financial solutions to augment the client's wealth and facilitate building a legacy.
For any assistance and guidance regarding physical share certificates, Connect with our relationship manager now on Call at +91 22 4157 1111 or write to: demat@rurashfin.com.
Also Read: Tax Implications for Dematerialization of Shares & Why now is the time for physical to demat conversion.