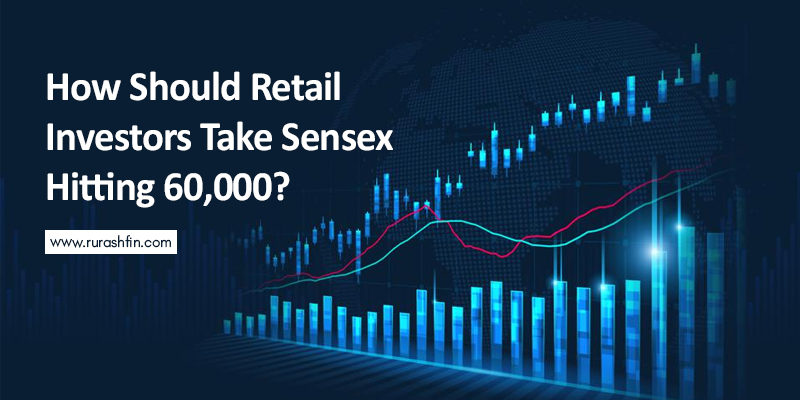 Rurash
27 Oct,2021 /
0 Comments
With a sharp decline in Covid 19 cases, buoyed by increased spending – the corporate sentiment has been jubilant across. While they recoup the losses of the last two years, India's dominant trading index – the 30-share pack -'Sensex' crossed a record high on Friday, 24th September 2021. 
Market bulls showed a dominant position on the back of numerous positive factors- 
High Reported vaccination Numbers, 

Strong market liquidity, 

High foreign inflows, and 

Improved retail investors' participation 

Strong performance of Indian industrial sectors, 

Improvement in the economic fundamentals, and 
For the first time, the Indian stock market has overtaken France in terms of market capitalization and has become the sixth-largest stock market amongst top economies. It took more than 30 years to go from 1,000 points to the 60,000 high.  
How the Sensex 60,000 Mark Unfolded? 
Taking its winning streak to the seventh session, equity benchmark Sensex rallied 460 points to finish at a fresh lifetime peak on October 18, 2021, tracking heavy buying in banking, IT and metal stocks despite a weak trend in global markets.
After touching a lifetime high of 61,963.07 during the session, the 30-share BSE index ended 459.64 points or 0.75 percent higher at its new closing record of 61,765.59.
Similarly, the Nifty surged 138.50 points or 0.76 percent to its all-time closing high 18,477.05. It touched a new intra-day record of 18,543.15.
Infosys was the top gainer in the Sensex pack, jumping over 4 percent, followed by Tech Mahindra, Tata Steel, ICICI Bank, ITC, Maruti, SBI and Axis Bank.
On the other hand, HCL Tech, M&M, Dr. Reddy's, Asian Paints, Bajaj Auto and Bharti Airtel were among the laggards.
"The domestic market traded at record highs withstanding the weak trends in the global market due to disappointing Chinese GDP numbers and global inflationary pressure as a result of energy shortage," said Vinod Nair, Head of Research at Geojit Financial Services
Ref – Hindustan Times
Sensex zooms 459 points to end at all-time high of 61,765; Nifty gains 138 points to settle at record 18,477 – Hindustan Times
Strategies for Retail Investors to grasp benefits with record-breaking Sensex
Retail investors The definition of INR 2 lac label for retail investors was given by regulators in the late 90s. Today's retail investor definition has been changed. in the stock market got a milestone opportunity to fulfill their financial goals. Market fundamentals have been showing a bullish trend for a long time. Market fundamental theories suggest an upward trend, giving a chance to win capital gain by taking a short position. As per investment experts, this bullish trend in Sensex and Nifty 50 would continue for the next 2-3 years just like a trend reflected before global financial recession. 
Small investors participate in the stock market under mental pressure. A slight up and down in the market forces them to change their position. Record hike in the Sensex within a few months has created a new standard for retailers.
Investors consider this surge as a positive fundamental to get high return on investment (ROI). On the other hand, new investors may face complexity while buying stocks due to extraordinary stock prices.
In this highly volatile market situation, you, as a retail investor can grasp maximum benefit by avoiding uncertainty with certain strategies
Sell your stock to earn high profits
As per the fundamental concept of securities analysis, capital can grow with change in the investment value over a period of time. You can secure high capital gain by selling top-performing stocks among Sensex-30 companies' stocks. All you need to do is keep an eye on the market index during the session. 
On September 27, 2021, Sensex showed the highest value of 60,412.32 points at the opening session. Retailers and high-worth investors could book high profits at that time. In these two trading sessions, Infosys and Maruti Suzuki showed the maximum hike in value. If you hold these stocks, you can grasp a surprising amount of profit and capital gain with it.
Hold on to Your Investment for Future Growth
Risk appetite behavior plays a crucial role in stock market trading. Investors with a high-risk appetite don't sell and buy stocks with minor fluctuations. Sensex and Nifty have been performing extraordinarily since the last few months. Financial experts are extremely positive about the upward movement of the market and have even predicted that the Sensex may cross 2,000,000 points in the next 10 years. 
Investors can reach a high investment level if they hold their stocks in Sensex and Nifty baskets with an intelligent market watch. Buying stocks from these indices would be costly for retail investors. Despite rising prices, investors bought maximum stocks in these trading sessions. You can enjoy your investment in Indian stocks for long-term as well as short-term periods with a consistent approach towards trading.