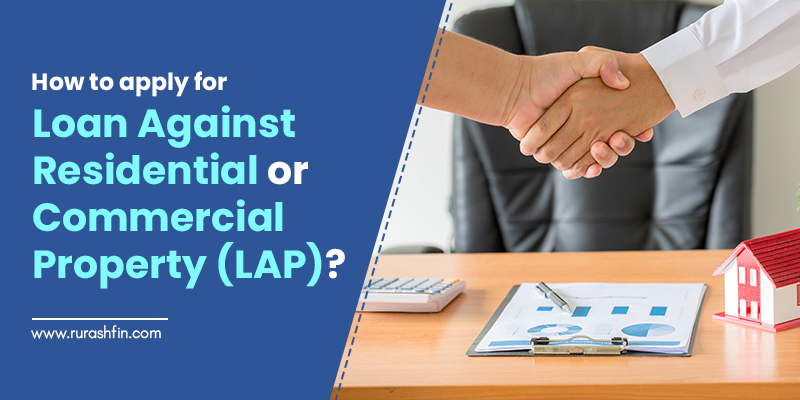 Rurash
25 Nov,2021 /
0 Comments
Different loans and mortgages are available in the financial services industry to cater to your monetary requirements. These requirements could be medical emergencies, higher studies, or business expansion. You can avail several loans with or without collateral in which Loan Against Property plays a significant role.
Besides, Loan Against Securities in India, you can use your residential and commercial properties for raising money. You can get funds from banks and financial service providers through Loan Against Property.
Loan Against Property (LAP): An Introduction
Loan Against Property, as a personal banking service, allows you to pledge your asset to raise money. In India, you can mortgage your constructed residential home and commercial business building as security for getting a loan under this loan facility. Banks and financial service providers offer this facility to both salaried and self-employed individuals. For example, Mr. X is a salaried employee having a residential house of Rs. 5 crores. He wants to get some funds for his daughter's higher studies. For this, he can apply to avail funds with Loan Against Residential Property.
In India, you can avail these loans for a tenure ranging between 2 to 20 years for an interest rate lying between 8% to 10%. Maximum loan value depends upon your property value, financial position, loan eligibility, and the terms of a lending agency. Some lenders offer loans up to 60% of property value whereas, some allow you to raise around 90% of property value as loan.
Check loan eligibility before applying for a loan
Your age, monthly salary, residential address, employment type, previous loan payments, credit score, and work experience determine your loan eligibility. In general, you are required to fulfil the following conditions to qualify as a loan applicant.
For salaried individuals:
Should be an Indian resident
The upper and lower age limit may vary from lender to lender but ranges from anywhere between 18 to 70 years.
A reasonable amount of work experience at an established private or government organization
Rs. 25,000 or above monthly salary (different for different lenders)
For self-employed individuals:
Should be an Indian resident
Must have a proven and steady source of income
Here again, the upper and lower age limit varies from lender to lender
Using online digital eligibility calculators
You can use online digital eligibility calculators to determine whether lenders will allow you to proceed or not. In the online calculator, you can put the following details to check your loan eligibility:
Occupation: salaried or self-employed
Contact detail: mobile number and email address
Monthly salary, property value, and desired loan amount
PAN (Permanent Account Number)
Employer type and residential address with more details
Upload the above-required details to determine your Loan Against Residential Property eligibility.
For example, Mr. M is a salaried employee, having 5 years of experience and a house worth Rs 10 crore, that he can keep as security. He can check his loan eligibility by putting this information in online calculators.
After getting confirmation regarding loan processing, the following steps will assist you in raising funds under LAP:
How to apply for a Loan Against Property in India
Financial institutions and financial service lenders follow a systematic procedure for giving a Loan Against Securities in India. Before applying for a loan, you need to follow the below mentioned steps:
Fill the application form: The first step is to give your required details. For this, fill in your details, property value that you are willing to pledge, your financial credentials, and other information to ensure your validity. In the above-mentioned example, Mr. M needs to provide his identity, PAN, salary, employer type, residential address, and property value.
Confirm your uploaded details: In this step, executives from the concerned lending agency contact you to verify your property details along with your financial credentials. Here, the lender checks your credit score that plays a significant role in loan sanctioning. Successful confirmation leads to further loan processing.
Upload and submit required documents: Next, you will be asked to submit specific documents such as proof of identity, income proof, address proof, and property papers. The format and structure of your document submission depend on your lender's requirement.
Verification of documents: After submitting the documents, you will have to wait for the lender's verification process. A credit analyst team matches the information you provide in the application process with your documents. Again, the verification process differs from one loan provider to another. Some firms require face-to-face verification by visiting the applicant's workplace or home.
Get a loan sanction letter from your lender: Once your lender has verified and confirmed your creditworthiness, you get your loan sanction letter. At this stage, you are allowed to analyze the loan terms and conditions.
Legal check and property evaluation: The loan provider's field verification team systematically evaluates your financial information and property papers through legal sources.
Get your loan funds in your account: Once you are done with the above-mentioned steps, you will get the funds in your account. Digitization in the financial industry has made it possible to get funds in a shorter span of time.
RBI regulations regarding the prepayment of Loan Against Property
As per the regulations of the Reserve Bank of India, you can prepay your loan amount before the maturity period without any charges or penalties. For this, you need to meet the following conditions:
If the applicants get a loan at a floating interest rate instead of a fixed interest rate.
If the loan is sanctioned in the name of one or more individuals instead of companies or business firms.
Conclusion
Various financial institutions and lending agencies offer Loans against Securities in India. Among different loans, you can get your Loan Against Property by keeping your residential and commercial buildings as collateral. These loans are available to self-employed and salaried individuals. By fulfilling the eligibility criteria, you can get your loan easily. For this, you need to follow the above-mentioned systematic procedure.