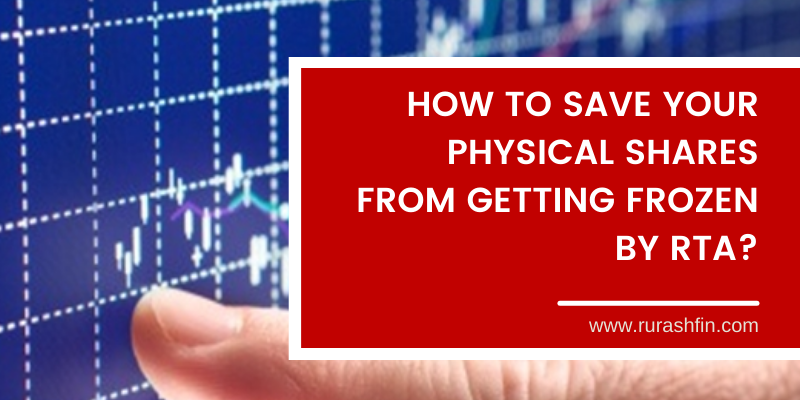 Rurash
21 Feb,2022 /
0 Comments
Securities market regulator, Securities, and Exchange Board of India (SEBI) have issued a new ordinance for holders of physical share certificates. The investor can hold physical share certificates but can not sell or transfer them. According to SEBI, only dematerialised shares can be sold or transferred. SEBI has also ordered to furnish complete details of PAN Card, Know Your Customer(KYC), and nomination to the certificate holders. This ordinance will enhance the ease of business functioning of the securities market.
How to save the physical shares from getting frozen by RTA?
SEBI, via the Circular No. SEBI/HO/MIRSD/MIRSD_RTAMB/P/CIR/2021/655, dated November 03, 2021, mentioned that any service request would be entertained by Registrar & Transfer Agent (RTA) only upon registration/update of PAN, KYC, and nomination details.
SEBI has shown the path to prevent shareholders from getting their physical shares frozen. Stockholders can apply for a Demat account and get those physical shares dematerialised.
How can an investor apply for a Demat account?
Pick your Depository Participant- SEBI has made it mandatory for everyone who wants to invest in the stock market to have a Demat account. The Demat Account serves as a wallet for securities. The investor needs to decide on a Depository Participant (DP). The DP should be registered with National Securities Depository Limited (NSDL) or Central Depository Services Limited (CDSL), and SEBI. Today, almost all DPs provide online trading services.
Apply for Demat account- An investor can obtain an application form from his/her DP. They need to fill in all details such as name, home address of applicant, email id, PAN card number, active bank account number, contact number, etc. They need to upload the following documents along with a duly filled application form.
– self-verified photocopy of Pan Card.
– self-verified photocopy of Aadhar Card
– a copy of the current electricity bill as address proof
– cancelled cheque of active bank account
– one passport size photo
KYC formality- An investor can obtain a Know Your Customer (KYC) form online. It is mandatory to fulfill the KYC formality for registering with DP and opening a Demat account. A Know Your Customer form is available on the mobile application of stockbrokers too.
Documents verification- Once an investor fulfills the KYC formality and submits the application form with necessary documents, a representative of the Depository Participant verifies those and ensures their veracity. After completion of the procedure, the investor receives confirmation from DP. He gets a Demat account number, login id, and password from his DP.
How can an investor apply for the Dematerialisation of physical shares?
The dematerialisation process is easy and comprehensive. Any investor can apply for Dematerialisation of shares he owns, by following these steps:
– An investor must fill Dematerialisation Request Form (DRF) and submit it along with his physical share certificate to his DP. The investor has to fill out different DRF forms for shares of various companies.
– It is important to mention "Surrendered for Dematerialisation" on each certificate.
– The DP transfers those shares to Depository, Registrars of the Company, and Transfer agents.
– The Registrar keeps updating the process status to the DP.
– After confirmation, the investor Demat account reflects the account with credit of shares.
– This process takes 15 to 30 working days to complete the dematerialization.
An investor needs to keep in mind that he can convert only those shares of a company in electronic form that are active in trading in the stock exchange. An investor can not claim shares of a delisted company. Those shares sometimes may not be valuable.
What can be done by an investor holding physical shares of a non-listed company?
Investors may continue withholding the shares of non-listed companies. They will be able to sell or transfer those shares. However, an investor may suggest to the company for joining the NSDL/CDSL so that physical shares can be dematerialised and he can avail the corporate benefits.
What happens if shares are in the name of joint holders?
If the shares are in the name of joint holders, all holders will have to open a Demat account.
The Registrar & Transfer Agents (RTA) can freeze the physical shares if it finds any holder's name is missing. RTA will have to cancel the request for dematerialisation in case of any changes in the order of holders' names. It means the name order should be the same as that of physical shares.
What happens if the first holder has died, can the surviving second holder still transfer the shares?
Transfer of shares in the Demat account is still allowed to the second holder of the physical share certificate. After opening his Demat account, he can request the company for transmission.
Furnishing details of PAN, KYC, & Nomination- SEBI mandated for all physical shareholders to furnish/update details of PAN Card, Know Your Customer(KYC) and nomination, contact details, and bank account details. In case of failure, any service request will not be entertained by RTA. The investor should provide all updated information regarding PAN, KYC, and nomination to RTA. This step would save the physical shares from getting frozen.
Link your PAN with Aadhar- All stockholders are advised to link PAN with Aadhar as of 31.03.2022. In case of failure, physical shares would be frozen by RTA.
Effects of this amendment- This amendment will reduce fraud and manipulation risk in physical share transfer by unscrupulous people. It will ease the functioning of the RTA. In addition, it is good for investors too, they may continue to avail themselves of the corporate benefits.
Conclusion
In conclusion, it can be inferred that the Dematerialisation of physical shares is the best solution to keep physical shares from getting frozen. After SEBI orders, it would be difficult for investors to maintain the shares in physical format. It does not mean those shares would be worthless for them. They are still free to hold shares in physical form but they can not sell or transfer the shares. RTA will also not entertain any service request from physical shareholders. It is also advisable for an investor to update his PAN details and KYC, get PAN linked with Aadhar and furnish accurate details of holders to RTA.
RURASH is among India's inventive Investment management firms, providing financial solutions to augment the client's wealth and facilitate building a legacy.
For any guidance regarding financial instruments, please reach out to us at invest@rurashfin.com or call us at +91 22 4157 1111.
Also Read: What are the Safe Investment Options for Fixed Income Investors in 2022?