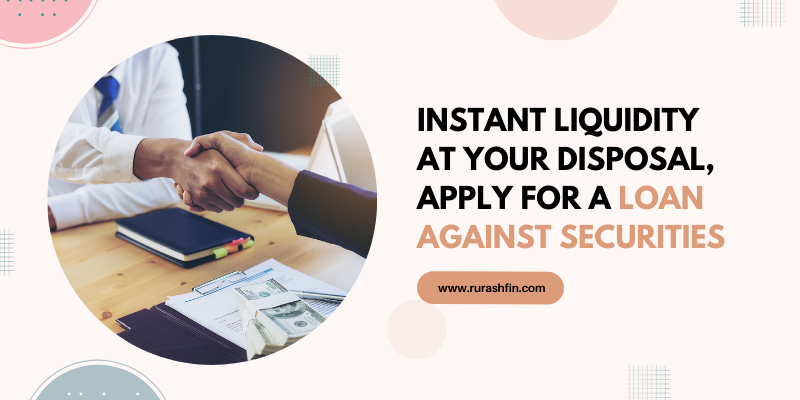 Rurash
16 May,2022 /
0 Comments
Almost everyone, at some point in their life, needs a loan. This may be a personal loan, auto loan, home loan, business loan, emergency loan etc. Whatever the purpose may be, the fact is that borrowing is often a part of an adult life.
Nowadays, there are numerous and varied institutions to secure loans from. These range from traditional institutions like banks, NBFC, etc., to internet-era creations like peer-to-peer (P2) lending. And there are numerous ways to avail of a loan: personal loans, loans against property, loans against gold, loans against credit cards, loans against securities, etc.
This article will talk about what a loan against securities is, its eligibility criteria, the benefits of a loan against securities, how to take a loan against securities, and what to consider while taking a loan against securities.
Loan against securities (LAS
)
Some investors occasionally find themselves in times of dire financial need with the urge to sell a few financial assets. While this urge can be tempting, selling these financial assets would mean throwing away years of investing efforts down the drain. Loan against securities (LAS) become helpful in such a scenario where investors can get loans to overcome their financial distress without liquidating their assets.
A loan against securities is taken by pledging securities. It works like an overdraft facility with the securities acting as collateral. Some securities against which the loan is offered are:
Insurance policies,
Mutual fund units,
UTI Bonds,
NABARD Bonds,
National Savings Certificate,
Demat shares, etc.
Sovereign gold bonds
These securities' Loan to Value (LTV) ratios varies according to their asset classes. The RBI assigns each asset class the applicable regulatory limit on LTV ratios. The LTV ratios vary across lenders depending on the risk assessment of individual securities.
Eligibility criteria for loan against securities (LAS)
The eligibility criteria for LAS vary according to the institute offering it. The typical eligible age is above 18 years. Every institution has its own eligibility criteria with a different list of approved securities and documentation requirements.
Benefits (Pros) of a loan against securities (LAS)
Convenient
Since it is a secured loan, LAS is quick and straightforward to obtain with minimal paperwork required. It typically gets approved within 24 hours, with the funds disbursed to borrowers within 48 hours of application.
No restriction on end-use
LAS has no restriction on the end-usage of funds, except for speculative purposes. This makes it an excellent alternative to personal loans and loans against credit cards, which charge a higher interest rate than LAS.
Flexible repayment with nil repayment charges
LAS is offered as an overdraft facility with a credit limit per the pledged securities. This facilitates the withdrawal of funds as per the borrower's requirements. Since the interest rate is charged only on the drawn amount, the borrower must pay the interest amount for the drawn amount only. The absence of an EMI burden coupled with no repayment charges provides the borrower the flexibility to manage their debt obligations according to their cash flows.
No ownership loss
Individuals availing of LAS to meet their financial needs still possess their financial assets. Since their investments are not liquidated, their returns on investments are not hurt. The borrower continues to receive the credit of interest, bonuses, dividends, etc., during the loan tenure. Therefore, there is a greater chance of the earnings from the securities covering the loan's interest rate, essentially turning into a no-cost loan.
Easy accessibility to high-value loans
Since LAS are secured loans with the securities acting as collateral, borrowers have access to high loan amounts depending on the overall value of their securities. For instance, Bajaj Finserv offers loans as high as 10 crores, while Tata Capital disburses up to 20 crores.
Rurash Financials act as an aggregator and can facilitate loans upto 100 crores.
How to take a loan against securities (from an NBFC):
NBFCs provide secured and unsecured loans without any limit on the maximum amount, unlike banks, which typically require collateral for loan amounts exceeding Rs 7.5 lakhs. This makes NBFC extremely attractive to investors seeking high-value loans. To access LAS, KYC documents and investment proofs are necessary. It can be availed either through offline or online means:
Offline.
Visit the nearest branch of the lender that you wish to avail the loan from, along with the necessary documents. The documents required differ from one lender to another. Still, the standard documents required are photo identity proof, address proof, a copy of PAN card, Income proof, bank statements, etc. At the lender's branch, an official will assist with applying for a loan against securities (LAS) scheme.
Online.
Nowadays, every lender provides the option to avail of LAS online. The whole process is quick and hassle-free. Visit the lender's official website through which you wish to avail of the loan and click on the "Apply Now" button. Enter the necessary details and upload the documents required. The documents required in this mode are similar to the offline mode. The loan amount will be approved and disbursed once the lender has verified the details and documents submitted.
What to consider while taking a loan against securities (LAS)?
As the prices of pledged securities are volatile, lenders tend to revalue pledged securities periodically. If the prices of the pledged securities fall, leading to the total drawn amount exceeding the sanctioned limit. The borrower would have to make up for the differences by either pledging more securities or paying the difference in cheque or cash. A failure to do so attracts a high penalty charge, as high as 18% a year, on the amount drawn over the sanctioned limit. Therefore, it is crucial to ensure the future financial viability of the pledged securities.
Generally, LAS is offered at an attractive (low) interest rate due to its secured nature. These rates depend on the market rate of the securities. So, it is necessary to find the most suitable rate to keep the interest payment in check.
The loan amount and tenure vary according to the requirements of each borrower. It is wise to evaluate all the options and decide on the loan amount and tenure. Consulting with a financial advisor will help the borrower make the best of the LAS taken.
Loan against securities (LAS) should be taken when idle investments are around. This is particularly great for long-term investors that need quick and easy finds to remediate their short-term cash shortfalls without jeopardizing their long term financial goals.
RURASH is one of India's investment management firms, providing financial solutions to augment the client's wealth and facilitate building a legacy.
For any guidance regarding financial instruments, Connect with the relationship manager now or write to: loans@rurashfin.com
Also Read: Things Pertinent to investing via Bond Platforms.