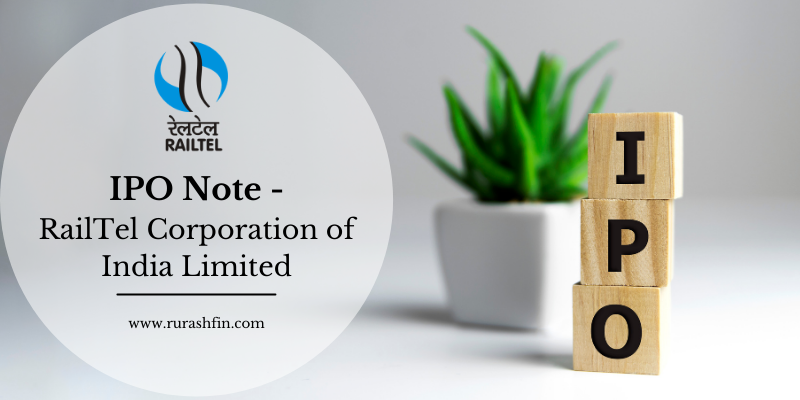 Rurash
18 Feb,2021 /
0 Comments
ABOUT THE COMPANY
RailTel Corporation of India Limited is a Mini Ratna (Category-I) Central Public Sector Enterprise, wholly owned by the Government of India and under the administrative control of the Ministry of Railways. The company is an information and communications technology ("ICT") infrastructure provider and is one of the largest neutral telecom infrastructure providers in India. It was incorporated on September 26, 2000 with the aim of modernizing the existing telecom system for train control, operation, and safety and to generate additional revenues by creating nationwide broadband and multimedia network by laying optical fiber cable by using the right of way along railway tracks.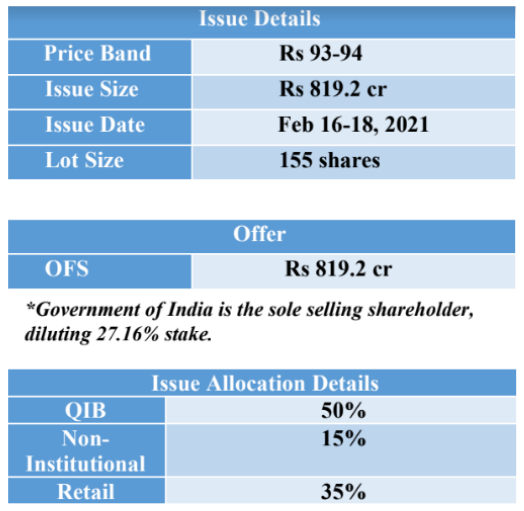 Operations of the company can be broadly classified based on the various services offered:
(i) Telecom Network Services;
(ii) Telecom Infrastructure Services;
(iii) Managed Data Centre and Hosting services;
(iv) Collaboration Services.
Other details about the company:
Optic Fibre Network: 55,000 route kilometres
Railway stations covered till March 31, 2020: 5,677
Data Centres: Gurugram, Haryana and Secunderabad
Retail users: 172,083
STRENGTHS OF THE COMPANY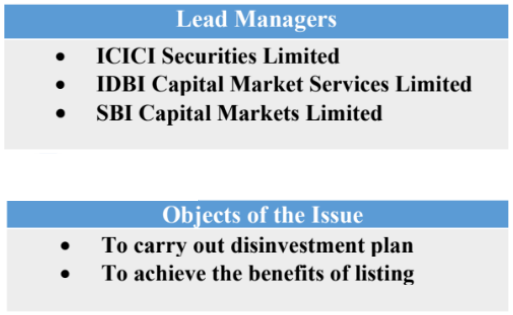 Largest neutral telecom infrastructure providers in India with pan India optic fiber network – As of June 30, 2020, the company has exclusive right of way along 67,415 route kilometres connecting 7,321 railway stations for laying optical fiber cable. Also, RailTel offers high-capacity bandwidth of 800G at 60 locations in India. Along with IP-1 services, company also provide VPN facilities and leased line services.
Diversified portfolio of services and solutions – The company offers a diversified portfolio of ICT services and solutions including MPLS-VPN, leased lines services, TPaaS, eOffice services and data centre services, large network hardware system integration, software, and digital services. In addition to laying optical fiber cable network, the company's transport network is built on high capacity DWDM and an IP/ MPLS network over it to support communication requirements of the Indian Railways and other key customers.
Key partner to the Indian Railways in digital transformation – The company provide a variety of services to the Indian Railways and have implemented MPLS data network for integrated payroll and accounting system, unreserved ticketing system, freight operations information system and coaching operations information systems.
Robust pipeline of projects – The company has successfully completed long-term projects for provisions of ICT services across India, which includes Bharat Net projects for connectivity of gram panchayats in India. The company also has projects for various public sector enterprises including the ESIC and MHRD. In addition, projects of setting up e offices for many government entities such as Central Warehousing Corporation and IRCON, is also in the pipeline.
STRATEGIES ADOPTED
Continue to expand telecom services through latest technologies – RailTel's extensive network is a key differentiator in the market and a key value proposition in delivering services to its customers. Company plans to continue investing in infrastructure, like, in fiberisation of telecom towers to build 5G infrastructure in India.
Further diversify sources with focus on Indian Railways- The company plans to enhance its focus on provision of services that have high market attractiveness and in particular work with the Indian Railways. The Indian Railways currently uses GSM-R based network and intends to migrate to the LTE network. RailTel intends to work with the Indian Railways to develop and manage their proposed LTE network that will create a private network along railway tracks. It also intends to work with the Indian Railways to meet their current and emerging communication infrastructure requirements by implementing the High-Speed Mobile Communications Corridor ("HSMCC").
Expanding services outside India- RailTel is currently in the process of bidding for project in Africa that include supply, delivery, installation, testing and commissioning of goods and service for digital literacy in public primary schools in Kenya. The company is also evaluating projects in Bangladesh and Jordan to modernize and digitize their existing networks. In addition, the company is also exploring business opportunities in Mauritius and in particular, the healthcare segment. Also, it intends to become a platform for regulators and fintech providers and implement these applications in other developing countries.
KEY SERVICES PROVIDED BY THE INDIAN TELECOM PLAYERS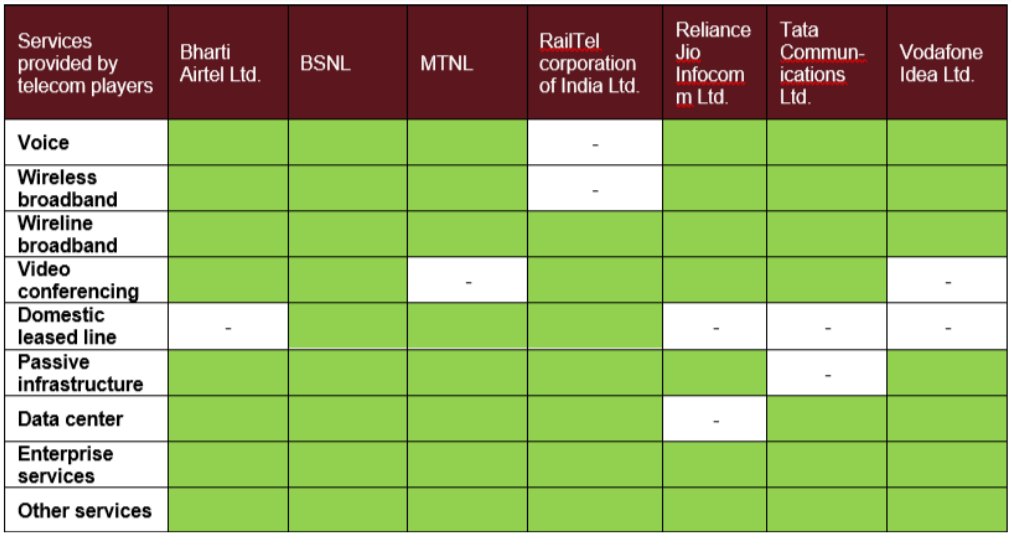 FINANCIAL SNAPSHOT

PEER COMPARISON

OUR ANALYSIS AND RECOMMENDATION
Strong economic growth, aided by shift to digital and on-demand business models with a growing need for any time anywhere connectivity for enterprises and the GoI's push for digitization, are fuelling demand for telecom services from enterprises. RailTel, therefore, intends to continue adopting the ready business solution approach enabling its customers to scale faster and enhance their operational efficiencies. The company intends to enhance its focus on provision of services that have high market attractiveness, the major one being Indian Railways. In Fiscal 2020, RailTel reported the highest net profit margin among Key Telecom Companies and Key IT/ICT Companies in India, with a PAT margin of 12.50% while the net profit margin in the six months ended September 30, 2020 was 8.48%.
Going ahead, the company intends to partner with PSUs for providing ICT services, maintenance of telecom infrastructure, and marketing of dark fiber, tower space, telecom network and associated equipment and collaborate in areas such a development of smart cities, network requirements for defence projects, cloud, IoT and mission critical communication systems.
From the valuation perspective, company is commanding a valuation of 21x of FY20 EPS at the upper price band of Rs 94, while the direct peer Tata Communication is trading at a PE of ~29. Given, the operational parameters of the company and consistent dividend-paying company with an average dividend payout being 40% over FY18-20, the IPO price seems to be grossly under valued and thus should be gladdened by the market participants, given the growth opportunities the tele-infra industry has in India in the coming years.
DISCLAIMER
This article is prepared by CA Shraddha Jain, Senior Research Analyst – Unlisted & Private Equity, on February 16, 2021. The views expressed herein are based on the facts and assumptions indicated in the document.
All investment / financial opinions and/or views expressed herein are the personal views of the author. All the information contained herein is to be construed as indicative data which has to be corelated with actual market and economic conditions.
It is very important for investors to do their own analysis before making any investment. The investor should take independent financial advice or independently research and verify, any information herein. The information contained in the report is not intended as, and shall not be understood or construed as, financial advice.
Unintended and misprints may occur despite best efforts to ensure that all information is accurate and up to date.
Please remember at all times that –
Investment in unlisted securities is subject to market risks.
Unlisted securities do not offer an easy exit route, such as selling on stock exchange, as in the case of listed securities.
Any future gains or losses indicated herein are projections, based on our understanding of the market and macro economic situation as well as our understanding of the enterprise issuing the unlisted securities, as on the date of this communication. Future course of events may change the projections. We do not assume responsibility to update this report based on such changes.
We do not guarantee any profits, losses or rate of return.
Connect with our team of experts to know all about RailTel Corporation of India Limited IPO now. Call now or drop a mail to invest@rurashfin.com.