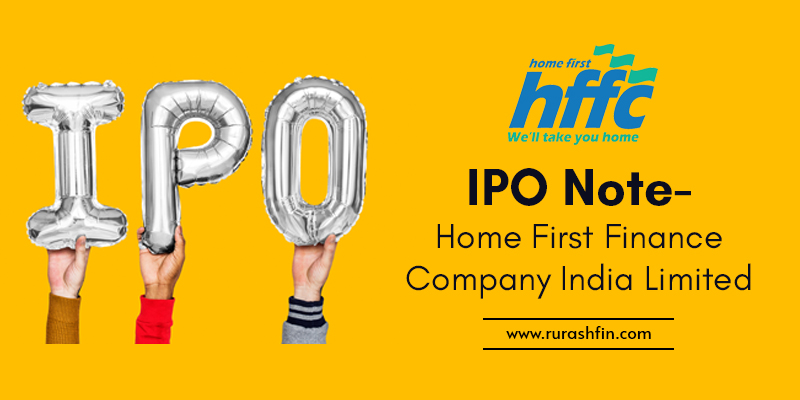 Rurash
22 Jan,2021 /
0 Comments
ABOUT THE COMPANY
Home First Finance Company India Limited, incorporated in Mumbai, was founded on February 2010.It is a technology driven affordable housing finance company that targets first time home buyers in low and middle income groups. The company primarily offer customers housing loans for the purchase or construction of homes, which comprised 92.1% of the Gross Loan Assets, as of September 30, 2020. Primary customers of the company are salaried and self-employed, where they contribute 72.6% and 24.6% respectively to the Gross Loan Assets. The company also offers other types of loans comprising loans against property, developer finance loans and loans for purchase of commercial property, which comprised 5.1%, 1.9% and 0.9% of the Gross Loan Assets, as of September 30, 2020, respectively. It has diverse range of lead sourcing channels such as connectors, architects, contractors, affordable housing developers, etc.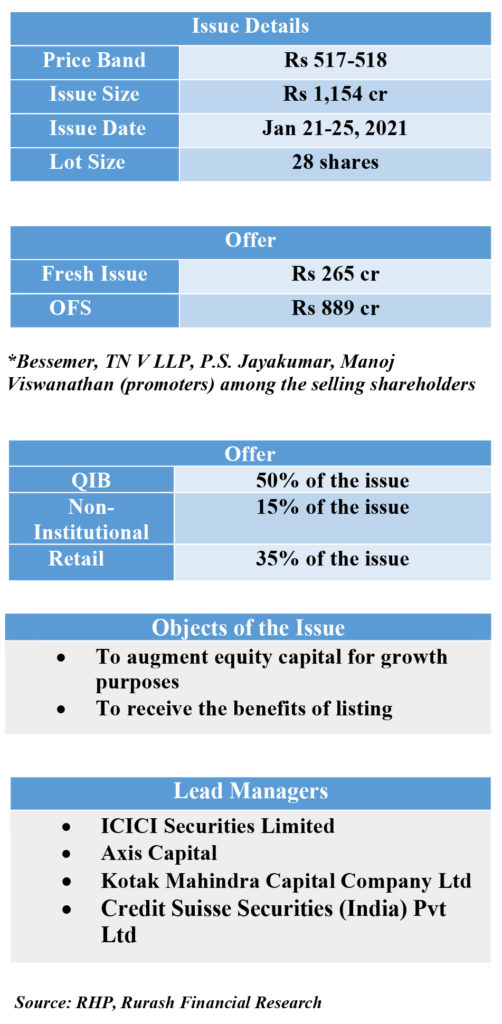 Other details about the company:
Average Ticket Size: Rs 10 lakhs
Geographical Presence:70 branches in 11 states in India, especially in Gujarat, Maharashtra, Karnataka and Tamil Nadu
Active Accounts: 44,796
Employees: 675
STRENGTHS OF THE COMPANY
• Technology Driven Company with Scalable Business Model – The company has established a differentiated technology framework with customized systems and tools, enhancing convenience for its customers as well as increasing operating efficiency. The company has also entered into arrangements with certain digital lead aggregators and other digital companies in the housing and real estate ecosystem such as Homelane, Paisa
Bazaar, Quikr India, Credit Mantri and Aapka Painter, which helps them to source leads embedded with customer data.
• Customer Centric Organizational Commitment – The company targets first time home buyers who find it difficult to disrupt their work routines to apply for a loan and comprehend the terms of a loan transaction. In order to address such concerns, it has set up an easy and customer friendly process right from the loan application stage to disbursement of the loan.
• Deep Penetration in the Largest Housing Finance Markets, with Diversified Sourcing Channels – Home First has successfully adopted a strategy of contiguous expansion across regions over the years and have strategically expanded to relevant geographies by evaluating areas with high economic growth and substantial demand for affordable housing finance, along with industry portfolio-at-risk levels and socio-economic risk profile. The company intends to increase the number of our branches to 90 by the end of the financial year 2022, in order to achieve deeper penetration in our existing 11 states and union territory
• Well-Diversified and Cost-Effective Financing Profile – The company is able to access borrowings at a competitive cost due to stable credit history, superior credit ratings, conservative risk management policies and strong brand equity, with average cost of borrowings of ~8.5%. To diversify sources of capital, the company seeks to obtain funding through the issuance of non-convertible debentures and external commercial borrowings. Further, it also intends to increase its lender base, which has grown from 10 as of March 31, 2017 to 17 as of September 30, 2020.
FINANCIAL SNAPSHOT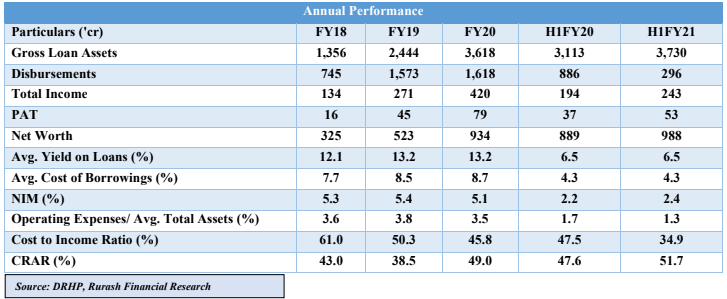 PEER COMPARISON

OUR ANALYSIS AND VALUATION
The affordable housing segment has been growing steadily with a four-year CAGR of 14%. However, there are wide variations across states and within various districts in the same state as well, which indicates latent opportunity for offering loans to unserved or underserved customers. The sector also offers higher returns and lesser competition compared with traditional home loan market, that is to say, among the peer group set (large, medium, small and affordable), affordable HFCs have highest profitability (RoA). So, clearly, the growth opportunities for the affordable HFCs are huge in the coming years, which got further accentuated by the Government thrust to affordable housing through PMAY.
Home First is focusing more on technology driven platform. Currently, the company has one of the fastest TAT of 48hrs to disburse the loan to its customer. Going ahead, it is looking for more strategic tie-up opportunities like the one entered recently with Airtel Payment Bank, fintech partners such as No Broker, Lendingkart, Paytm for providing/advertising Company's affordable housing loans. It is also improving its asset and liability management to ensure that it continues to have a positive asset-liability position. This will help to upgrade its credit rating further and thus reduce the average cost of borrowings. The company's major disbursements are for affordable houses that fall within the purview of the PMAY, where buyers are entitled to certain government subsidies, which further reduces their loan-to-value ratio once the PMAY subsidy gets disbursed.
Even during the pandemic period, company's asset quality has largely remained stable with GNPA and NNPA at 0.7% and 0.5% respectively, at the end of H1Y21.Given the book value of Rs 143.4 per share (post- issue), the share would be trading at 3.6x of its book value at the upper price band of Rs 518.We feel that the stock is fairly priced in comparison to its direct listed peer, Aavas Financers, which is trading at ~6.8x to its book value.
DISCLAIMER
This article is prepared by CA Shraddha Jain, Senior Research Analyst – Unlisted & Private Equity, on January, 22 2021. The views expressed herein are based on the facts and assumptions indicated in the document.
All investment / financial opinions and/or views expressed herein are the personal views of the author. All the information contained herein is to be construed as indicative data which has to be correlated with the actual market and economic conditions.
It is very important for investors to do their own analysis before making any investment. The investor should take independent financial advice or independently research and verify, any information herein. The information contained in the report is not intended as, and shall not be understood or construed as, financial advice.
Unintended and misprints may occur despite best efforts to ensure that all information is accurate and up to date.
Please remember at all times that –
Investment in unlisted securities is subject to market risks.
Unlisted securities do not offer an easy exit route, such as selling on stock exchange, as in the case of listed securities.
Any future gains or losses indicated herein are projections, based on our understanding of the market and macro-economic situation as well as our understanding of the enterprise issuing the unlisted securities, as on the date of this communication. Future course of events may change the projections. We do not assume responsibility to update this report based on such changes.
We do not guarantee any profits, losses or rate of return.
Connect with our team of experts to know all about Home First Finance Company India Limited IPO now. Call now or drop a mail to invest@rurashfin.com.