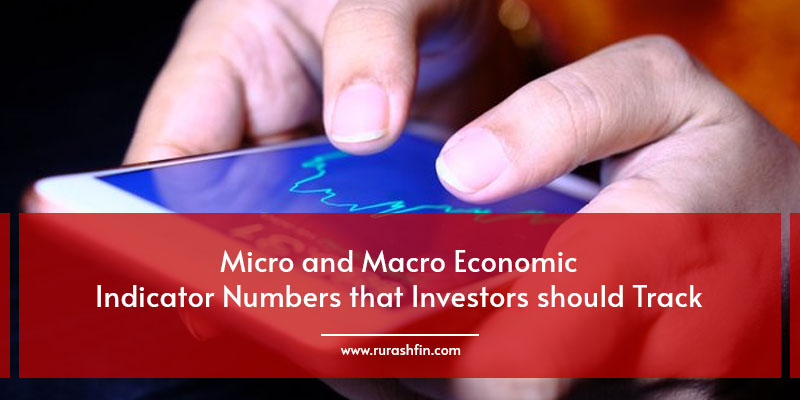 Rurash
04 Jan,2021 /
0 Comments
An economic indicator ​is as any information that can help ​the investors in understand​ing​ what is going on in the economy. Economic Indicators are classified as Macro and Micro factors.
The Macro economic indicators can be Gross Domestic Product (GDP), Industrial Production data, Inflation levels, interest rates etc.,
Whereas, the Micro Indicators ​help you ascertain how​ the​ supply and demand interact in individual markets for goods & services.
Auto Sales In December 2020: Eicher Sales Rise 37%, Tata Motors' Passenger Vehicle Sales Nearly Double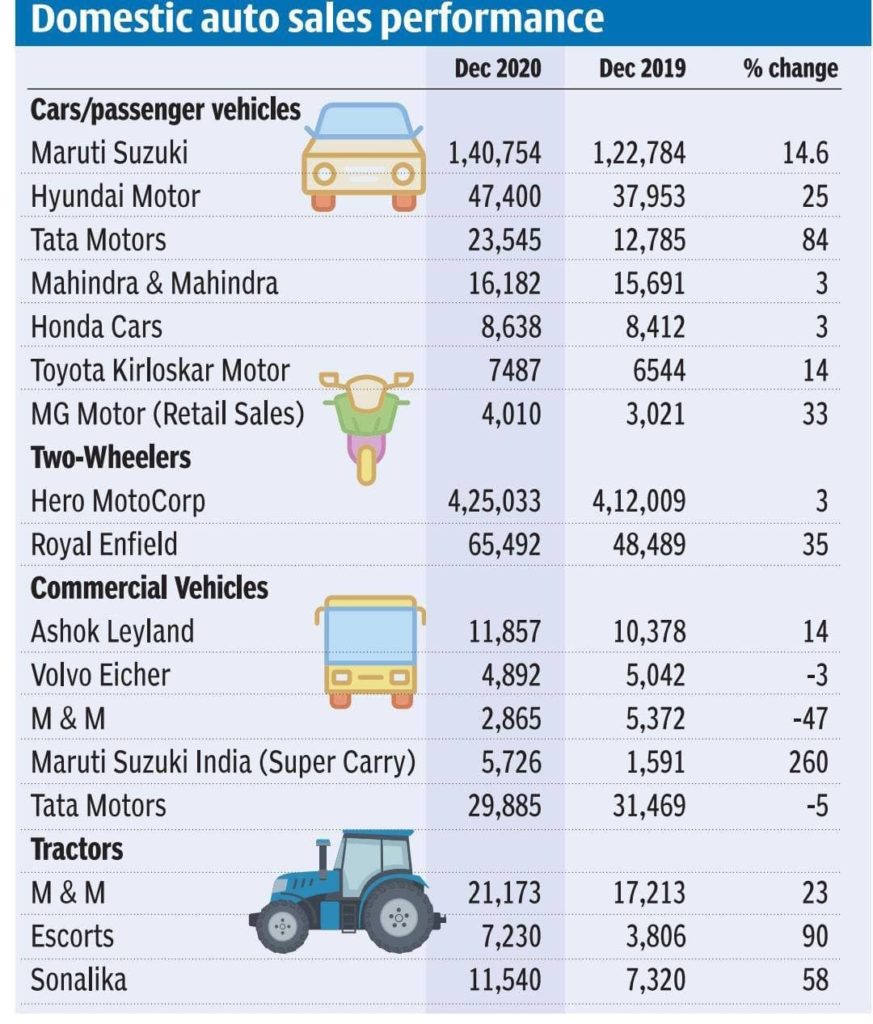 1. Tata Motors
Domestic Sales Rise 21% Tata Motors Ltd. reported a 21% increase in domestic sales as higher car deliveries offset the impact of lower commercial vehicle demand.
– Total sales rose 21% year-on-year to 53,430 units.
– Total commercial vehicle sales declined 5% to 29,885 units mainly due to a drop in sale of passenger carriers and small commercial vehicles.
– Car sales rose 84% to 23,545 unit
Retail sales were 18% higher than wholesale for the month and pipeline inventory remains thin," said Shailesh Chandra, President of Passenger Vehicles unit, in the media statement. "We are continuing to debottleneck the supply chain and ramp up our output to meet the increased demand while addressing the availability of electronic components."
2. Eicher Motor Sales Rise 37%
In December Eicher Motor Ltd. saw sales of Royal Enfield motorcycles rise 37% in December, led by an increase in deliveries of models with engine capacity up to 350 cc.
– Total sales stood at 68,995 units compared with 50,416 units in December last year.
– Exports rose 82% to 3,503 units Sales of models with engine capacity up to 350 cc rose 33% to 63,580 units.
– Sales of models with capacity over 350cc more than doubled to 5,415 units.
3. M&M Reports 25% Growth
In Farm Equipment Sales, Automotive Sales Fall Mahindra & Mahindra Ltd.'s Automotive Division registered a 10.3% decline in sales in December 2020 at 35,187 units against the 39,230 units sold in the same period last year, according to the company's exchange filing.
Overall passenger vehicle sales were up 3% at 16,182 units with a 3% growth in exports at 2,210 units.
"Our overall sales have been affected due to the continuing supply chain challenges related to the constantly changing global environment, more specifically the supply shortage of micro-processors (semiconductors) used in Electronic Control Units," Veejay Nakra, Chief Executive Officer of Mahindra.
The Farm Equipment segment, on the other hand, registered a 25% growth in sales in December 2020 at 22,417 units as compared to the 17,991 units sold last year.
Domestic sales were up 23% at 21,173 units, while exports rose 60% at 1,244 units.
4. Maruti Suzuki Posts 20% Sales Growth
Maruti Suzuki India Ltd. posted total sales of 160,226 units in December 2020 led by compact vehicles, LCVs and Vans.
This is a growth of 20.2% over the 1,33,296 units sold in the same month last year, the country's largest automaker said in a statement.
– Domestic sales rose 19.5% at 1,50,288 units and exports were up 31.4% at 9,938 units.
Maruti Suzuki registered a growth of 13.4% in the third quarter of the current financial year with total sales of 4,95,897 units.
5. Escorts Ltd.'s
Agri machinery segment sold 7,733 tractors in December, the highest ever recorded in the month, the company said in a statement to the exchanges.
The automaker registered a growth of 88% against the 4,114 tractors sold in the same month last year.
Domestic tractor sales grew 90% year-on-year at 7,230, while exports were up 63.3% at 503 units.
Going forward all macroeconomic factors remain in favour of continued growth and we do not expect any significant supply-demand gaps," the company said. "Rising Inflation, however, continues to be a worry."
Portwise Container Volumes for Dec-20: BIG SURGE
• Pan India Container Volumes (at India Ports) spiked 19% YoY/+17% MoM in Dec-20, accelerating from +11.5%/+10%/+1%/-8%/-11%/-20%/-28% YoY growth seen in previous 7 months. There is no soft base effect. 3QFY21: +14% YoY; 9MFY21: -7% YoY.
• Adani ports continue to lead significant market share gains from peers in Container segment; Expect overall cargo volumes to be strong for 3Q as well for Adani.
Portwise performance as below
Adani Ports (ex KPCL): +43% YoY (+23% MoM) in Dec-20; 3Q: +30% YoY
Mundra: +52% YoY (+22% MoM)
Hazira: +5% YoY (+17% MoM)
Kattupalli: +3% YoY (+55% MoM)
Ennore: +126% YoY (+9% MoM)
Pipavav: -16%YoY (+1% MoM); 3Q: -14% YoY
Krishnapatnam: -31% YoY (+61% MoM)
JNPT: +10% YoY (+11% MoM)
Overall Major Ports: +12%YoY; +12% MoM
For in-depth understanding about the economic indicators. Connect here or drop a mail to invest@rurashfin.com