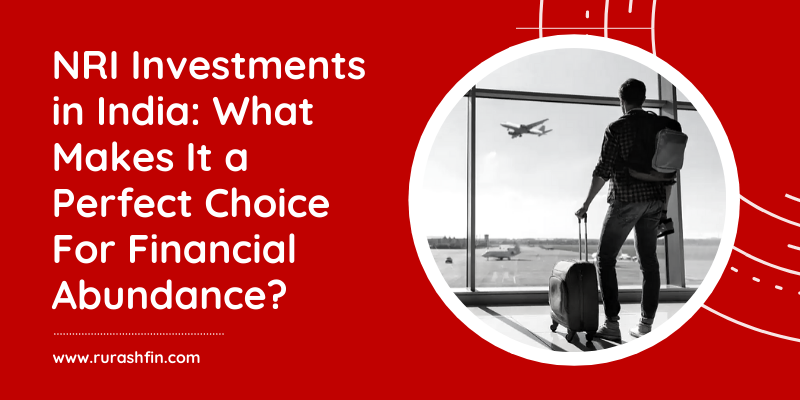 Rurash
15 Feb,2021 /
0 Comments
It's no secret that diversifying your investment portfolio goes a long way when it comes to achieving financial independence. In other words, if you want a passive income for the long haul, it's important to know different ways to create everlasting wealth, one of which is participating in the Indian economy.
According to Financial Express, India's going to grow faster than most other economies at a global level in the year 2021. The Finance minister in her budget speech has clearly defined that the economy will grow over 15% in next Financial year. This is the main reason why NRI investments in India are always on the rise. Whether it's the stock market or real estate, investing in a rapidly developing economy is a wise move. On that note, let's take a look at what makes NRI investments in India a perfect choice for financial abundance.
1. High Stability and Faster Growth
Time and again, the Indian economy has proven to be more stable than most of its counterparts. That holds true even during the highest market volatility. According to Upwardly, the Indian economy boom to $5 trillion by the year 2025. The same source stated that a report by the US department of agriculture has predicted that India is going to be the third-largest economy at $6.6 trillion by 2030. This proves that it's one of the most rapidly growing economies. Combine that with higher stability and NRI investors have a winner!
2. Lower Property Rates With Better Estimated Rise In Prices
The real estate market of West is more mature than the Indian realty market. In India, the rise in prices is significantly higher and it offers better returns in a short time frame. Moreover, non-resident Indians can claim a tax deduction on principal repayment and home loans, unlike Indian residents. Not to mention, the remaining amount after tax deduction at source can be pretty enticing in the form of regular rental income.
3. Higher Interest Rates
One of the biggest mistakes NRIs do is that they keep their money idle in bank accounts that offer very low interest rates. But as compared to the US, Japan, or other developed Nations, India offers investors better interest rates. Most conservative investors all over the world are still hesitant in investing in real estate and the stock market. But if they invest in bank deposits and high yield debt funds in India, they can generate higher returns. Some secure investment options that offer a higher rate of interest in India include the National Pension Scheme, Mutual Funds, corporate bonds and Bank fixed deposits. When there are so many ways to earn interest on your hard-earned money, does it even make sense to let your cash stagnate?
4. Stabilized Currency
Even the most volatile markets haven't been able to affect the Indian Rupee apart from some minor corrections. That's an obvious observation if we compare it to other currencies with the USD. It would be safe to say that the INR is an unwavering currency when it comes to examining emerging economies. The US dollar has been weakening against many other currencies, unlike INR that has remained relatively intact for a long time. Thanks to the stability of the Indian currency, it's easier to diversify for NRI investments in India.
5. Rich Demographic Dividend and Higher Youth Population
Being one of the countries with the highest youth and adolescent population, India is one of the booming consumer markets across the globe. Spending behaviors have started to display more immediate gratification. Consumer aspirations no longer lean merely towards creating assets. As a result, mutual funds that are consumer-themed have been performing well and they are estimated to do so for the time to come. So, NRI investments in India is a way to reap one of the richest demographic dividends of all time.
The middle class occupies a large portion of the population in India which acts as a catalyst for the consumer economy. Innovative businesses don't have much trouble in finding buyers for their services and products. Moreover, with the help of programs such as Skill India, the government is striving towards raising a trained and skilled workforce. Therefore, if you are an NRI firm looking forward to foreign direct investment, a skilled workforce is something you can rest assured of.
6. Rise In India's Global Competitiveness
According to Invest India, the Aadhar scheme, a massive security program covers 95% of the Indian population. India has undergone a major tax reform since the year 1947, that is, independence, thanks to GST (Goods and Services Tax). This encourages a common national market as it integrates the entry of indirect taxes.
The Pradhan Mantri Jan Dhan Yojana has given rise to the opening of 312 million bank accounts under savings scheme formalization. This proves that India has been moving forward and getting a better position in the global competitiveness. Thus, it makes it an excellent option for NRI investments in India.
7. Improving Infrastructure
The Government of India has been striving towards starting power plants in addition to tapping solar energy and other alternative sources. It makes sense since the demand for energy continues to rise. Besides that, the authorities are allotting significant finances towards building enhanced infrastructure including airports, roads railway, and so on.
The country is also home to large financial institutions, thus, constituting a robust infrastructure for the financial sector. The best part about the finance sector in India is its resilient nature and the ability to bounce back from crisis. This is another major parameter that makes NRI investments in India more profitable than ever.
Final Words
We are not denying the fact that plenty of foreign instruments for investment offer good returns. But one thing is for sure. If you are an NRI who hasn't tapped into the Indian economic scenario for investment, you are missing out big investment opportunity. Whether you plan on returning home after retirement or continue your life overseas, progressive passive income never hurts.
Now that there are so many platforms that help NRIs in easy penetration in the Indian market, there is no reason why you should be missing out on the financial independence you have always wanted!