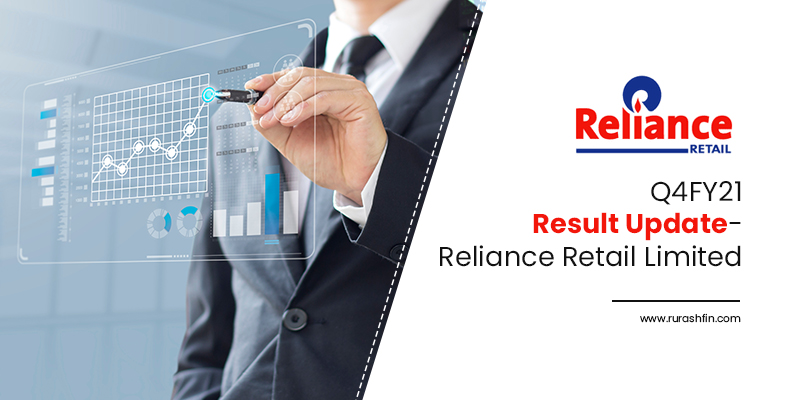 Rurash
07 May,2021 /
0 Comments
ABOUT THE COMPANY 


Reliance Retail Limited (RRL), a subsidiary company of Reliance  Industries Limited, is the largest and the only multi- brand retail chain in  India. It operates under 4 business segments: Consumer Electronics,  Grocery, Fashion & Lifestyle (F&L), Petrol Retail and Connectivity. RRL  accounts for over 80% of consumption needs of Indian households. RRL  has the largest customer franchise of over 125 million registered customers across 7000+ towns and cities, direct to consumer, Digital commerce channels and B2B channels serving millions of Indian consumers across underserved markets. 
RESULT HIGHLIGHT 

➢ Financial Highlights 
Net Revenue for the quarter grew by 20.0% to Rs 41,296 Cr on y-o-y basis, while for the whole year, net revenue de-grew  by 4.9%, from Rs 146,272 Cr to Rs 139,077 Cr. 

EBITDA for the quarter stood at Rs 3,617 Cr, higher by 41.5% on y-o-y basis, which included investment income of Rs  534 Cr. EBITDA during the year increased from Rs 9,789 Cr to 9,683 Cr, highlighting a growth of 1.1%. However, this included investment income of Rs 1, 333 Cr, had this not included, the EBIDTA would have been impacted by 12.7% in  FY21 vis-a-vis FY20. 

EBITDA margins for the quarter stood at 8.8% in comparison to 7.4% in Q4FY20.For FY21, EBITDA margins stood at  7.0% vs 6.6% in FY20.Excluding the investment income, operating margin would have 7.5% and 6.1% for Q4FY21 and  FY21, respectively.  

Net Profit during the quarter grew by 45.1%, from Rs 1,549 Cr in Q4FY20 to Rs 2,247 Cr in Q4FY21, while it stood flat  for the year, at Rs 5,481 Cr. 
➢ Business Highlights 
As on March 2021, RRVL has total 12,711 stores pan-India. New physical stores added during the quarter were 826.

94% of the stores of RRVL were operational in Q4FY21 vis-à-vis 96% in Q3FY21. Overall footfalls increased from 75%  in the previous quarter to 88% of the Pre-covid levels. 

Amongst all the segments,

Consumer Electronics

showed double-digit growth with continued momentum across both stores and digit commerce space. During the quarter, RRVL has expanded its own brand portfolio and forayed into electricals with 15% channel penetration. Also, due to Jio Phone plans, the device sales has bounced backed during the quarter, and we expect the rising trend from the electrical segment due to aggressive product deals. 

Under

Fashion & Lifestyle

segment, the clothing brand 'Trends' has strengthened its market leaderships in micro-markets  and small-towns, where small towns contributed >55% of Trend sales. On the other hand, Reliance Jewels revenue has shown 180% yoy growth during the quarter, on the back of buoyant consumer demand. 

Under

Grocery

segment, Offline/Jio Mart has delivered the highest revenue in this quarter, where the lower footfalls in  the offline store was offset by higher Average Basket Value (ABV). Also, the JioMart Kirana has expanded to 10 new cities in this quarter, serving a total of 33 cities till date.

The

Pharma

division, which has lately started the business both via offline and online. The company has 114 pharmacies  operational and is fast growing. Customer acquisition strategies has been through health camps, society interactions and  door-to-door marketing. Simultaneously, pan-India brand campaign initiated for 'Netmeds' in this quarter, which has led  >25% site traction on a quarterly basis. 
➢ Operational challenges emerging from latter March as states go through their Covid wave-2 phases: 
Exhibit 1: Trend of % of store operation and footfalls during Covid period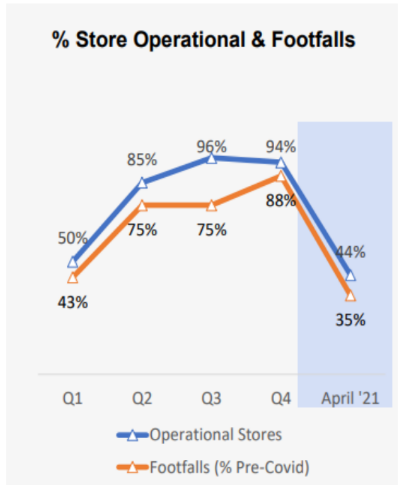 Source: Company's Investor Presentation 
OUR INTERPRETATION 
RRVL's overall operating environment is directionally improving over previous quarters with small towns continue to lead the  recovery. Although covid wave-2 emergence in latter March had adversely impacted consumer footfalls and sentiments, we believe  that it is short-lived to a quarter or so, on the back of speedy vaccination process going on in the country after which the  curbs/limitations will eventually start easing. Apart from the macro challenges, RRVL has given all time high revenues, with broad  based growth over previous years across all consumption baskets. This was one another quarter where the company has shown  record EBITDA performance, due to continuing benefit from cost management initiatives taken during the year. Going forward, the  company will continue to scale up its e-commerce segment along with merchant partnerships across businesses and geographies,  step-up pace of new store opening, launch/ scale up own brands along with augmenting its supply chain infrastructure. 
DISCLAIMER 
This article is prepared by CA Shraddha Jain, Senior Research Analyst – Unlisted & Private Equity, on May 03, 2021. The views  expressed herein are based on the facts and assumptions indicated in the document. 
All investment / financial opinions and/or views expressed herein are the personal views of the author. All the information contained  herein is to be construed as indicative data which has to be corelated with actual market and economic conditions. 
It is very important for investors to do their own analysis before making any investment. The investor should take independent  financial advice or independently research and verify, any information herein. The information contained in the report is not intended  as, and shall not be understood or construed as, financial advice. 
Unintended and misprints may occur despite best efforts to ensure that all information is accurate and up to date.  
Please remember at all times that – 
Investment in unlisted securities is subject to market risks. 

Unlisted securities do not offer an easy exit route, such as selling on stock exchange, as in the case of listed securities.

Any future gains or losses indicated herein are projections, based on our understanding of the market and macro-economic  situation as well as our understanding of the enterprise issuing the unlisted securities, as on the date of this communication. Future course of events may change the projections. We do not assume responsibility to update this report based on such changes. 

We do not guarantee any profits, losses or rate of return. 
Connect with our team of experts to know all about Reliance Retail Limited now. Call now or drop a mail to invest@rurashfin.com.