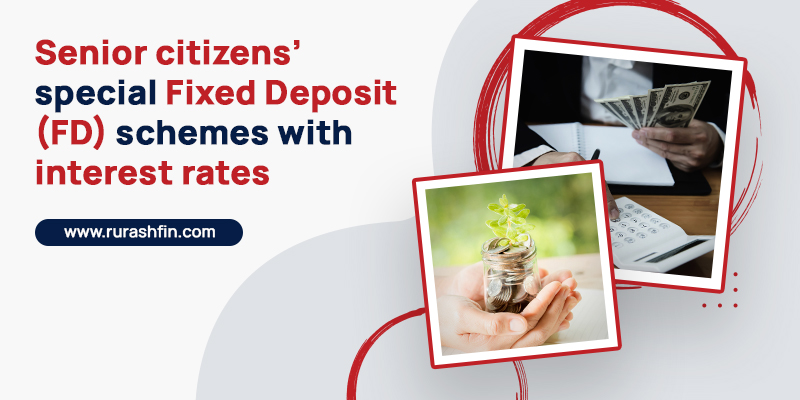 Rurash
24 Jul,2022 /
0 Comments
Senior Citizens form about 8.6% of India's population as per 2011 Census and are expected to rise by 41% upto 2031. It is no surprise that the Government of India has special senior citizen plans and most banks give extra benefits in terms of interest rate earnings. With limited or no means of earning, investments become the major source of monthly income.   
Most senior citizens are wary of high-risk investments and prefer steady returns. As a result, throughout their retirement years, senior citizens prefer Fixed Deposits/ Corporate Fixed Deposits or other investment options with consistent returns. We are all familiar with the Fixed Deposits offered by banks, but very few of us are familiar with Corporate Fixed Deposits. Let us analyze the significance, benefits, and additional benefits that senior citizens enjoy during their retirement when investing in Corporate Fixed Deposits.
What are Corporate Fixed Deposits?
A corporate fixed deposit is a fixed deposit kept for a set period of time at a set rate of interest. Financial and non-banking financial institutions offer company fixed deposits (NBFCs). Fixed deposits issued by companies can have maturities ranging from a few months to a few years. Individual people, non-resident Indians (NRIs), and elderly people over the age of 18 can invest in these FDs. While providing stable returns, these fixed deposit accounts provide a variety of advantages to senior citizens as compared to Individuals.
Most corporate deposits offer 1-2% higher returns/rates of interest than bank FDs. This means you can also opt for monthly payouts, but the interest rate for monthly payouts will be slightly lower than quarterly and annual payments. When it comes to short-term investments and safe investing possibilities, this investment option works well.
What are the Interest Rates & frequency of payments in Corporate FDs?
Varying financial organizations provide different interest rates on FDs. As a savvy investor, you'll choose the FD with the best rate of return. As the accumulated interest is reinvested, the rate of return on cumulative deposits is larger than on non-cumulative deposits. Also, as previously stated, senior persons' FD interest rates are often higher. Currently, the average interest on these deposits ranges from 5% to 7.70% per annum. Also, the senior citizens are provided an additional interest of 0.25%-0.50% as compared to individuals.
Apart from this, the benefits of the FD scheme availed by Senior Citizens are –
Flexibility –

Many Senior Citizen investments do not provide for investment tenure flexibility. Corporate Fixed Deposits, on the other hand, are not subject to the same restrictions. These fixed deposits range from the versatility of tenors spanning from 12 to 60 months. This choice will enable individuals to invest in these low/high-yielding deposits in accordance with their retirement plans and objectives.

No Limit on Investments

– When investing a lump sum amount in a corporate fixed deposit, there is no restriction. For instance, when investing in the Senior Citizens Savings Scheme (SCSS), the maximum amount that can be invested is ₹15 lakhs (upper cap).

Mode of Investing –

With the rise of digitalization, Corporate Fixed Deposits also offer the option of investing both online and offline. A financial intermediary, such as

RURASH Financials

, can assist them in selecting the best and safe corporate Fixed Deposits by following simple procedures.

Frequency of Interest Payments –

Non-cumulative Fixed Deposits allow you to receive interest on the money you put over a certain period of time. A senior citizen can choose whether to receive interest payments annually, quarterly, or month by month. Regular interest payouts can provide a constant and reliable income source for seniors in their post-retirement years.  This will help them because they will be able to choose the payment frequency that is most convenient for them.

Loan Facility –

Corporate FDs also give you the option of taking out a loan if you need money urgently. This option gives the senior citizens the added benefit of being able to use their FDs and withdraw money in the event of an emergency.

Safe Investments –

Corporate fixed deposits offer a high level of safety because the majority of the instruments are rated. If you're looking for a corporate fixed deposit, you might want to go with an issuer that offers a greater interest rate.
It is, nevertheless, equally crucial to investigate the financier's credibility. It is suggested that you deposit funds in AAA-rated Corporate Deposits to reduce the investment risk in Corporate Fixed Deposits. To put it another way, the higher the rating, the better the deposit. 
To summarize, fixed deposits offer a variety of benefits to depositors, including capital protection, flexibility, guaranteed returns, and periodic payments. An investor can choose the duration, interest payment frequency, and corporate fixed deposit that best meets their needs.
RURASH Financials helps people choose companies with strong ratings for a better investing experience.
For any guidance regarding financial instruments, Connect with the relationship manager now on Call at +91 22 4157 1111 or write to: invest@rurashfin.com.