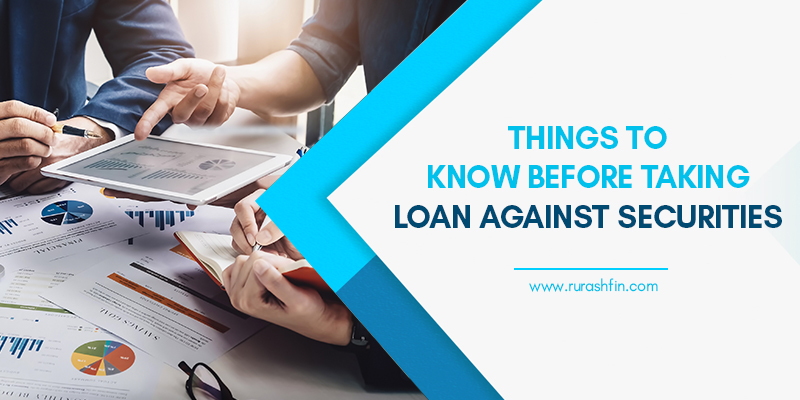 Rurash
14 Jun,2021 /
0 Comments
Life is highly uncertain. Financial emergencies come knocking on our doors when we least expect them. Dipping into planned savings is the first option most people opt for when an unforeseen financial requirement arises. Some take a bank loan while some prefer liquidating their investments.
But what if there is a better way than banking on borrowings or encashing your investments that reduce your future growth potential? By opting for LAS to meet sudden financial obligations, you won't be putting a hurdle in your  long-term wealth management. You also won't have to disrupt your long-term financial goals due to a short-term requirement. In short, availing Loan Against Securities is a flexible way to access funds without selling your securities or borrowing money from banks at exorbitant interest rates.
Things to Know Before Taking Loan Against Securities (Fact check on LAS)
1. Loan Amount & Tenure
Deciding on a foolproof repayment plan goes hand-in-hand with finalizing your loan amount and tenure. Since you have to pay interest on only the amount you utilize, this is a significant benefit  of Loan Against Securities.
 With Loan Against Securities, you have an option of paying your EMI only in the form of the interest amount. The borrower can pay the principal amount on or before the loan tenure. If you happen to have enough funds to pay the loan amount before the due date, you can do so and repay your loan. You can also withdraw unrestricted cash up to your loan limit, unlike credit cards that usually have a withdrawal restriction in place.
2. Eligibility Criteria
 The prerequisite for  LAS is as below
"The following documents are required along with your Loan Against Securities application:
 

 Identity proof

 Address proof

 Signature proof
If you are borrowing in the books of  Companies/ Proprietorships/ Partnership firms you will need to submit  IT returns, an audited Balance Sheet and Profit & Loss Account for the previous two years."
3. Interest Rates
Since the nature of Loan Against Securities is secure, the rate of interest is usually lucrative. For example, financial institutions don't calculate interest rates on the entire approved amount. Instead, they calculate interest only on the sum that the borrower withdraws.
 Interest rate varies from 8.1% to 14%
4. Fees and Charges
 The LAS lending rates vary from banks to different NBFC based on their internal assessment processes.
 At Rurash Financials– we offer you the best fit to borrow. However, Rurash also offers you to borrow against your preferred lender.(Banks/NBFC)
5. Assessment of Portfolio.
The quality of shares you intend to pledge will have an impact on your lending and interest rates too.
 Take a quick assessment of your portfolio for loan against securities here.
Why are Loans Against Securities Better than Personal Loans or other forms of emergency loans?
The best thing about having a solid investment portfolio is that you won't have to rely on banks for personal loans. The biggest disadvantage of opting for personal loans is the high interest rates.
 On the other hand, Loan Against Securities provides unrestricted fund usage for urgent financial requirements with low interest rates. Moreover, you also have an option to put up only some of your securities as collateral.
 Most lenders allow borrowers to make foreclosures for part pre-payments at negligible to nil charges. You also have an option to choose the tenure of your convenience.
Conclusion
As long as you diligently repay Loan Against Securities, this is by far the best way to cater to short-term unforeseen financial requirements. But remember, the financial institution holds the right to sell your stocks to recover their money in case you are unable to repay the loan. Before you opt for the same, make sure you conduct thorough and holistic research to avoid hurdles in the way. After all, the sole aim here is to avoid any financial burdens.
Anyone can face short-term cash crunches. That doesn't mean you have to liquidate your assets or pay high interest rates for bank loans. Moreover, if you opt for a personal finance expert, you can further smoothen out this process. Our designated team of experts at Rurash performs a detailed portfolio review and risk assessment before coming up with a LAS option suited to fit your financial needs. We are also available for clarifying any queries during the entire process. 
RURASH is one of India's investment management firms, providing financial solutions to augment the client's wealth and facilitate building a legacy.
For any guidance regarding financial instruments, Connect with the relationship manager now or write to: las@rurashfin.com