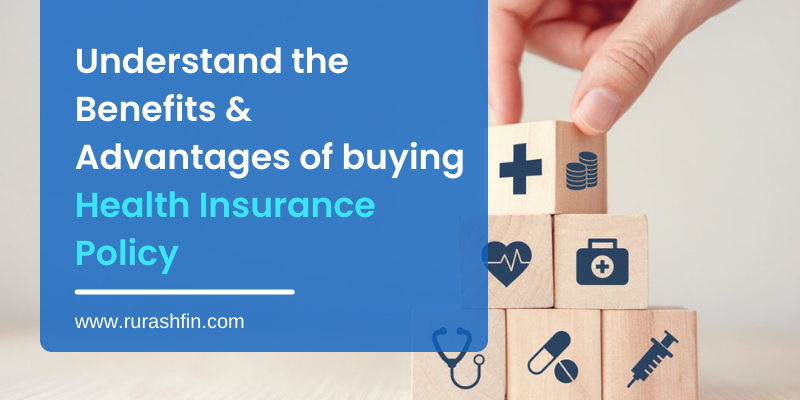 Rurash
30 Jun,2022 /
0 Comments
To begin with, rising pollution levels, changing lifestyles & a variety of such factors hurt our health. These often lead to health disorders in individuals. Earlier, people used to worry about illnesses and ailments only after a certain age, but these days, even small kids may suffer from critical illnesses like diabetes and heart conditions.
The medical costs connected with the treatments of such disorders are continuously rising, with an all-time rise in hospital-related expenses, cost of medicines, and fees of specialist doctors. You may find yourself struggling with finances if someday any of your family members falls ill. This is when a health insurance plan comes to our rescue. Hence, we will be discussing the same in this article.
What is Health Insurance
Health insurance policy is a type of policy that protects the spending on medical treatment caused as a result of a disease. Having health insurance has various advantages. It safeguards you and your loved ones in the same way that house or vehicle insurance shields you from losses incurred. Health insurance covers the costs relating to hospitalization, medical treatment, or the medical consultation fees for doctors. You may help ensure your and your family's health and financial security for your entire life with a quality health insurance plan. It also serves as a gateway to a network of medical providers, as well as other resources to help you maintain your health. Understanding basic health insurance terms is the first step toward acquiring a cost-effective coverage plan that meets all of your individual or family's needs.
Understanding Health Insurance in Detail
You can opt to buy individual insurance plans for every member of the family, or you can opt for a family floater plan. When you purchase a family floater health insurance plan, the insurance company considers the highest risk member. As a result, if you have slightly elevated individuals, such as the elderly or those with pre-existing ailments, family floaters may be costly. Personal health insurance coverage may be a preferable and cheap option in such cases.
With that, Let us now look at a few of the key definitions relating to health insurance –
Premium – The amount that an insurer pays to get his/her health insured is premium. A premium is payable every month/year. The amount of premium differs from person to person as it is dependent on the factors such as age, health, coverage, existing medical condition, nature of employment, etc.
Deductible – The portion of the cost that an insured pays to the insurance provider before the start of coverage. Typically, if an insured pays lower premiums, the deductible for the same will be higher.
Coinsurance – The amount payable to a healthcare provider after the deductible has been reached is referred to as coinsurance. Coinsurance is often calculated as a percentage of the entire expenditure. If the policy's co-insurance is set at 10% and the cost is Rs. 1,00,000, the policyholder is responsible for Rs. 10,000 in co-insurance.
Co-pay – A copayment or copay is a specified fee paid by a patient to the service provider before getting the service. It might be defined in an insurance scheme and paid by the customer every time a health care service is utilized.
Pre-existing condition – Pre-existing condition/disease accounts for the diseases that one has at the time of applying for health insurance. Premiums may be greater than usual health insurance plans in some circumstances due to symptoms or continuous treatments for pre-existing diseases.
Waiting period – When you get a health insurance policy, the insurer will usually impose waiting periods. These are times when you are unable to file a claim. When you join up for a new health fund, you normally have to serve a waiting period, which often applies to both hospital and supplementary coverage.
Top-up policy – Only once the existing health insurance policy sum is depleted does a top-up health insurance plan become active. Premiums for top-ups are usually lower than that of the actual health insurance policy. For Example – Ms. P had a basic coverage of Rs. 5,00,000 (family floater) & a top-up policy of Rs. 10,00,000 (family floater) of XYZ Ltd. On 5th Jan 2021, Ms. P got a bill of Rs. 7,00,000 due to some sudden accident but since she had a top-up policy, her claim was accepted. (Rs. 5,00,000 from the basic health insurance policy & Rs. 2,00,000 from the top-up insurance policy).
Advantages of Owning a Health Insurance Policy
Coverage for medical expenses – The basic purpose of medical insurance is to guarantee that you receive the finest medical care available without jeopardizing your financial situation. Health insurance programs protect you from astronomical medical expenditures. You may thus focus on your speedy recovery rather than worrying about such high fees.
Protection against serious illnesses – The costs of treating critical illnesses can be unbelievably high. Critical illness insurance is now available from insurance companies as a standalone policy or as a rider. This sort of policy includes coverage for conditions such as renal failure, heart stroke, and several others. If you are identified with any of the severe diseases listed on your policy's specified list, you are permitted for a lump sum payout. This amount can be used to pay the costs of your disease treatment, as well as your regular expenditures and any other cash requirements.
Cashless claim – Numerous health insurers offer the choice of initiating a cashless claim. As a consequence of this agreement, you may not be obliged to make any payouts for your medical treatment or hospitalization. The hospitalization expenses will be resolved between your insurer and the hospital. You must be hospitalized at one of the provider's network health institutions to be entitled to this service.
Additional protection (employer's coverage) – Various providers offer group benefits to employees. Such regulations, however, are not customized to each individual's personal needs. Furthermore, if you quit your job or switch jobs, you might well be left uncovered. One must have their own health insurance policy to protect themselves in the event of an incidence like this.
Tax benefits – Health care programs give tax benefits. Section 80D of the Income Tax Act of 1961 allows you to deduct the premiums you pay for your health insurance coverage. The amount of deduction is as follows:
Recent Updates
Earlier the pandemic (Covid- 19) and recent war-like situations across the globe have increased the urge in people to secure their families by buying a health insurance policy. According to health insurance specialists, the current COVID-19 pandemic has altered numerous industries in India, none more so than the health insurance market. Experts feel that the disruption has, in some ways, allowed insurers to be more flexible in terms of putting out unique health packages, such as home-based COVID-19 care as well.
Conclusion
None of us want to imagine our precious ones suffering medically. However, medical ailments are usually never planned. What we can do best is to be prepared for dealing with such tough situations through a good health insurance plan.
When deciding between the many medical insurance products on the market, you may take the help of a trusted name like RURASH and choose the ideal plan for your unique needs and requirements without losing out on the benefits that you can take from it.
RURASH is one of India's investment management firms, providing financial solutions to augment the client's wealth and facilitate building a legacy.
For any guidance regarding financial instruments, Connect with the relationship manager now on Call at +91 22 4157 1111 or write to: invest@rurashfin.com.