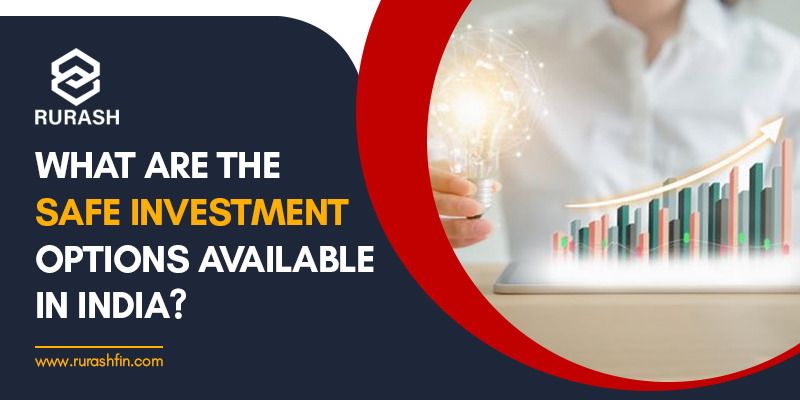 Rurash
08 Oct,2021 /
0 Comments
Financial assets to make investments are categorized as fixed income products that include bonds, National pension Scheme, fixed income securities, etc., and market-linked products that include stocks, mutual funds, etc. Both can help you create wealth, but fixed income products are considered safer investments than equity or other asset classes.
You can diversify your investments in different asset classes, depending on your risk profile. Here are the safe investment options for a diversified portfolio:
Fixed-income Securities
 Following are the fixed income securities popular among investors wary of volatile stock market risks: following are the best fit fixed income securities for risk averse investors
 Fixed deposits are among the most secure investments that can help in wealth accumulation creation with minimal risk and conservative returns and preserve it. These fixed-income securities are available for both short and long term investors in India as well as overseas. Depending on their financial goals, you can choose the corporate or NBFC FD tenor from 12-60 months. Corporate FDs provide fixed returns at a higher rate comparatively with Bank Fixed deposit attributes.
–   Assured capital preservation with corporate Fixed Deposits.
–   Assurity of periodic interest payment along with principal repayment on maturity. 
–   Lower risk investment; best-suited to risk-averse investors.
–   The facility of premature withdrawals and loans against Corporate deposit.
The bonds are issued by various entities like
Government – Sovereign Bonds – also popularly known as GSEC
RBI Bonds – These are Quasi Sovereign Bonds issued by RBI
Semi Quasi Bonds – Municipal Bonds, Bonds Issued by Public Sector undertakings.
Private and public limited companies- Bonds issued by companies like Reliance, Tata Group, Muthoot Financials etc.
Recent Public bonds Issues
A few recent corporate debt issues are Muthoot Fincorp Limited (Rs 265 crores), Muthoot Finance Limited (Rs 1700 crores), India Grid Trust (Rs 1000 crores).

The Reserve Bank of India, on behalf of the government, will issue the SGB (Sovereign Gold Bond) in six series between May and September this year. SGB 2021-22 – Series IV was opened between July 12 – 16, 2021. The price was fixed at Rs. 4,807 per gram of gold. Investors are allowed to invest in a minimum of 1 gram of gold that can go to 4 kg for individual investors.
Debt Mutual Funds – Pooled Investment 
Mutual funds are one of the market-linked investments that offer potentially similar returns, with higher investment risks. However, it is safer than direct   investments made by novices. You can invest in debt mutual funds to minimize the investment risk. These mutual funds have a mandate to invest in various fixed-income securities, including corporate bonds, fixed deposits,etc . If you are interested in passive investing, you can get significant returns in the long haul with the buy-and-hold strategy.
Comparison of best safe investments
| | | | |
| --- | --- | --- | --- |
| Investment | Return Potential | Risk Involved   |      Suitability |
| Fixed Deposits | Medium | Negligible | All type of investors |
| Bonds | Depends on the credit ratings of the instrument | Low to medium | Risk-averse investors |
| Debt Mutual Funds | Moderate | Medium to high | Medium-risk investors |
| G-Sec bonds | High | Low | Risk-averse investors |
| National Pension Scheme (NPS) | High | Medium | Medium-risk investors |
 Thus you can create a blend of the fixed income securities basket in line with your financial goals and risk metrics.