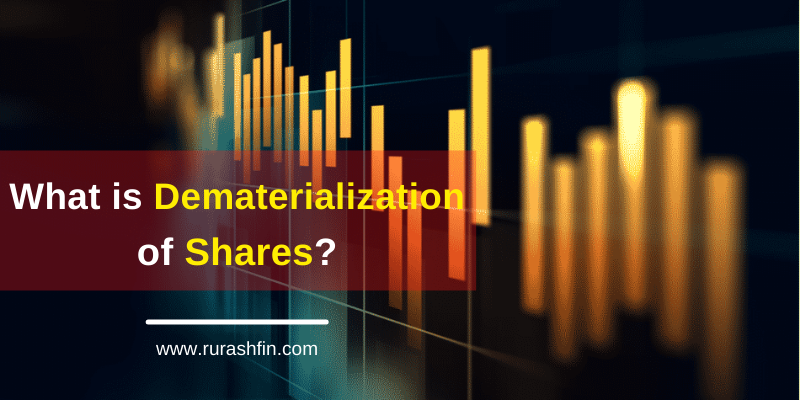 Rurash
21 Dec,2021 /
0 Comments
As more and more investors joined the share market, maintaining physical share certificates became too inconvenient. At that point, the concept of Dematerialization was introduced. Dematerialization is the process of converting physical shares and certificates from physical form to electronic form. The dematerialized shares and securities are subsequently stored in a Demat account in an electronic form under the respective holders of that unit, which serves as a holding account. Various Depository Participants (DP) provide Demat services in India.
RURASH is amongst the best financial institutions in the country that simplifies your investment documentation and operational nuances. 
What is Dematerialization
You need to open a Demat account online or offline with a depository participant to dematerialize your securities. When you dematerialize your securities, your depository is responsible for holding shares and securities. For this purpose, the depository hires agents, known as Depository Participants, to act on its behalf and provide services to investors. The two commonly known licensed depositories in India are NSDL (National Securities Depository Limited) and CDSL (Central Depository Services Limited).
Uses of Demat Account:
A Demat account can be used in different ways. It does not just provide digital security to the financial assets, rather it provides different functions. You can manage and modify your portfolio with a single account and it does not require visiting a depository participant to perform any transaction.
Following are the important uses for a Demat:
Trading in Equity Markets: When you have an account for trading, then you can simply view the past trend of stocks. With this information, you can buy security at a low price and if you don't find it beneficial, then it can be sold out on the same day. These types of transactions are considered intraday trading and it can be possible through just a single account in your hand.
Quick monitoring of securities

: It enables the instant view of returns, the record of prices, costs, and fundamentals. It gives you an idea of whether you have invested in the right investment security or not.
Loan facility on securities

: An interesting use of an online Demat account is that you can borrow funds by keeping the securities as collateral. Apart from it, it does not transfer the ownership to the lender. It enables you to earn interest and dividends on the securities.
Storehouse for multiple investments:

you can use a single account to maintain all your securities whether it is Gold ETF, mutual funds, bonds or debentures, shares, and money market instruments. It enables you to revise and modify the securities by changing the volume and quantity of securities.
These are some interesting and handy uses of your Demat account. It provides different benefits which are the key attraction for any investor. Let's have a glance at the benefits:
Free access without risk

: It provides free access to the securities without any risk of physical risk. You access your account on your smartphone that always remains with you. So, you can just check everything just by a simple click.
Multiple layers of security for Demat account

: It gives you password-protected security that won't allow anyone else to operate your account without your permission.
Faster service:

In the physical method of trading, you were required to wait for about 15 days for the securities for the settlement of the transaction, but here with the

online Demat and trading account

, you do not have to wait for a long time to have security.
Is Dematerialization essential
Dematerialization of securities was required because depository participants were finding it difficult to manage the growing paperwork associated with share certificates. Along with having issues related to errors, omissions, fraud, and theft, physical certificates were also becoming harder to update. Converting such certificates to electronic format saves space and allows depository participants to access them more easily. Rurash brings the Demat services at lowest to nil cost for your Demat services.
Advantages of dematerialization
You can store them safely without fear of theft, loss, or physical damage. 

You can manage your investments and access your online Demat account from anywhere and at any time. 

Demat accounts help in getting investments in order at a single place and remove the need for paperwork. They are user friendly, accessible, and secure.  For a person well versed with intraday trading, a Demat account helps in easy trading and earning profits within the stipulated timeline.

The fees associated with a Demat account are minimal to nil. 

No paperwork is required and transaction time is less. 

With

RURASH

, you can keep your shares and securities as collateral and avail loan facility against your holdings. 
Process of Dematerialization
You can choose a financial institution as your depository participant, with one of the regulated depositories, to dematerialize your securities.  

Obtain a Dematerialization Request Form (DRF) from your depository participant and complete it. 

Send the form together with your share certificates. You need to deface your securities by writing 'Surrendered for Dematerialization' on them. 

The DP checks the form and the certificates for possible errors pertaining to the client's signature, name on the DRF, paid-up status,

ISIN (International Securities Identification Number), lock-in status, and distinctive numbers.

If there is an error, the form and the certificates are returned to the client. 

Once everything is in order, the details of the shares that are to be dematerialized, are mentioned in the software of the depository (DPM), and the system generates a

Dematerialization Request Number (DRN). 

Then the DP submits the Dematerialization request to the issuer of the certificates/Registrar and Transfer (R&T) agent.

If everything is in order, the issuer/R&T agent accepts the request, updates it in its system, and sends it to the Depository Module (DM). 

The DM authorizes the request and the client's account is credited automatically. 

The DP informs the client about the confirmation of the request and the changes in his account. 
Conclusion
A reputed Demat service provider like RURASH will take care of electronic shares and securities. Additionally, you would not need to visit your broker to settle the transactions and can do so from the comfort of your home or office itself.  The investors will continue to enjoy corporate benefits like dividends, interests, and refunds on your Demat account.