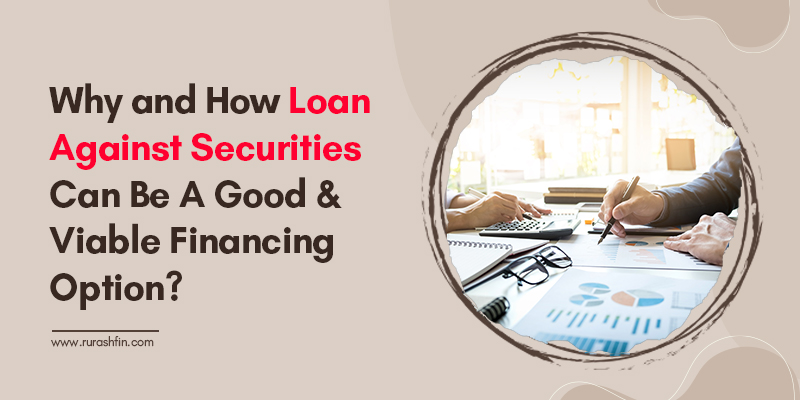 Rurash
27 Aug,2021 /
0 Comments
A loan against shares and securities is one of the hassle-free mortgages that offers immediate liquidity. It is a need-based product that can be utilised for a number of securities and almost available with all banks and NBFCs. Before you opt for a mortgage, you should consider the purpose of credit to fill the financing gap, evaluate the cost of the loan, and then choose the loan type best suited. You should have approved and valued securities to get a loan against them. If you are weighing whether you should go with a loan against your securities, here is the post elaborating on Loan Against Security.
Attributes of Loan Against Securities ( LAS)
Every financial institution has its own list of approved securities to approve a loan against securities. Most lenders can provide a loan against Listed/Unlisted equities, mutual fund units, government bonds, LIC policies, National Savings Certificates (NSC), Kisan Vikas Patra (KVP), UTI Bonds, Sovereign gold, etc
The list of approved securities is reviewed and updated bi-annually. The credit limit against securities varies depending upon the internal procedures of a financial institution and based on the policies stipulated by the RBI.
You can get a line of credit against securities for buying a property, household expenses, higher education, medical expenses, working capital, and so on, except investing for speculation.
Personal loans may seem the instant solution if you need funds on short notice but personal loans come at a high-interest rate and sometimes delayed availability of funds. Instead, you can apply for a loan against shares or securities available at a lower interest rate from various institutions using Rurash Financials as a platform. Before applying for a loan against an asset, look at the liquidation of these assets. Liquidation may make more sense than a loan against them.
In a volatile market, you need to consider topping up your margin by transferring more securities or reducing your leverage ratio.
An overdraft facility is also associated with loans against securities.
A borrower can withdraw from the total sanctioned limit by the lender, called the drawing power.
Drawing powers depend on the liquidity and value of the pledged, tenor, and risk associated with the asset. Lenders may grant drawing power between 50%-80%.
The market price of the securities and net asset value of the mutual fund keeps fluctuating, and therefore, revalued as required. Due to such fluctuations, drawing power gets revised.
Loan Against Securities – A Viable Option
Experts believe that a loan against security is a viable option in terms of short-term liquidity. However, one should be aware about the process while utilizing the amount. Following are the advantages of loans against securities:
1. Zero foreclosure and prepayment charges
You are pledging your high-worth securities. Lenders keep their repayment terms convenient. You can make part payments or foreclose the loan. Generally, these loans do not involve a prepayment and foreclosure fee, unlike other loans.
2. High-value loans
You can utilize your financial assets to avail of a loan of up to 100 crores or more at 7.5% Rate of Interest, depending on the choice of lending institutions. It is easy to qualify for these loans that allow you to use funds without any restriction, except for speculation.
3. Quick approval to meet urgent needs
When sudden urgent financial needs leave you indecisive, you can get instant funds through a loan against securities. Lenders approve these loans within 24 hours and credit the amount within 48 hours. Faster application and quick disbursal process save your time. You can meet the urgent needs quickly with sufficient funds.
4. Retain the ownership
You will retain the ownership of the securities and continue to reap the benefits of dividends, interest, bonuses, and rights issues.
5. Benefit on interest calculation
You can get these loans at competitive rates, relatively lower than other loans due to the secured nature of the loan. The interest is calculated on the amount you use and for the number of days it is utilized.
6. Utilize a wide variety of securities
No matter to what extent your investment portfolio is diversified, you can collateralize certain securities to get funds. Make sure you check the list of approved financial securities with the lender.
7. Let your investment provide ROI and not end up paying taxes
As an investor, you would have researched well and built your investment portfolio to generate significant returns over time. You need not liquidate your assets at a loss or before maturity in a hurry. Simply apply for a loan against securities for instant financing and retain them for the stipulated time required to get returns. These loans are the solution for urgent fund requirements without disturbing your investment portfolio,If you let your investment grow then you can avoid paying capital gain taxes as you don't liquidate your investments.
This way, Loan Against Security facilitates capitalizing on investments without any need of selling the securities. You can meet your financial objectives without losing ownership of your assets and returns from them. Since the lender has full rights to liquidate your assets or funds in case of non-payment, make sure you repay the loan timely and restrict usage from the sanctioned limit.
Rurash
Rurash is a Loan Against Securities(LAS) aggregator and gets the variety of lender of your choice along with best rate of Interest, higher borrowing Limits, efficient Tax planning and world class customer service experience.