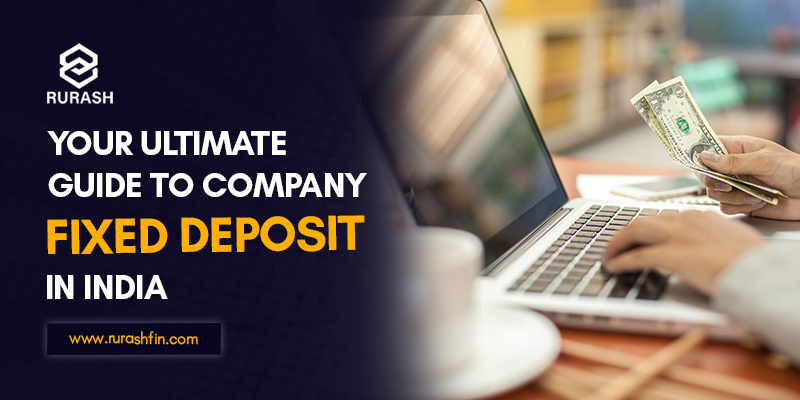 Rurash
13 Oct,2021 /
0 Comments
The intention to generate returns forms the basis of any investment. However, uncertainty owing to market factors and sudden movements always looms large.      
Fundamentally, there are 2 variables for Interest (Returns):
Inflation in the economy

Degree of risk associated with the borrower
For example, if the inflation is 5% and the degree of the risk with the borrower is 55 then the ideal rate of interest should be 10% per annum.
Additionally, there are other attributes also, which affect the rate of interest like Bond Tenure, Liquidity, underlying security, taxation, etc.
The What & Why of Company Fixed Deposits
Company Fixed Deposits are term deposits that are held at a fixed rate of interest for a fixed time period. The basic characteristics of a Company Fixed Deposits are similar to those issued by a bank or post office, except that the Company Fixed Deposit is offered by a financial and non-banking financial company (NBFC). The maturity of Company Fixed Deposits can vary from a few months to a few years.
The key difference that makes a Company's Fixed Deposit more attractive over a traditional fixed deposit is the high rate of interest. Depending on the tenure of the deposit, a Company Fixed Deposit may offer interest rates up to 3% higher than a traditional bank deposit. The 3% higher rate of interest is a very significant factor if we take compounding into play. For example, a bank may offer a 6% rate of interest and it will take about 12 years to double your money. Similarly, at a 9% rate of interest, your money will double in about 8 years. This is 50% higher earnings compared to the bank FD.        
Advantages of Company Fixed Deposits
Company Fixed Deposits offer the following benefits:
The interest rates offered by

company fixed deposits are generally higher than what banks offer for FDs.

Company Fixed Deposits offer several periodic interest payment options.

Almost every company's fixed deposit is rated by autonomous agencies such as CRISIL, CARE and ICRA. This makes them more reliable and safer for the investor.
Why does the higher rate of interest matter?
A simple question to ask here is why do Company Fixed Deposits pay a higher rate of interest than traditional deposits of the same term? One primary reason for this is to attract investors, as company fixed deposits are a wonderful way to generate funds from the common public. How does it benefit the investor? A higher rate of interest gives the investor a competitive edge and helps him to amplify his wealth in a shorter time period.
Assessing the quality of a Company Fixed Deposit
The simplest way to check for the quality of the issuer of a company deposit is to seek help from your financial advisor or wealth manager. The second level of check could be assessing the company ratings or looking at the company accounts and past debt servicing. Thirdly, looking at the quality of the management, Board of Directors, share price movement, etc. for a more detailed analysis. Also, the repayment history of the company gives an insight on the company's credit score, stability, and credibility. 
Points to note while investing in company deposits
While you can get a bank FD even for a few days, a corporate fixed deposit requires you to have at least a few months to get you an attractive return.

You can invest in a company deposit directly, completing KYC formalities in the form of identification and proof of residence. Certain financial advisory and wealth management apps also allow you to invest in these instruments. At RURASH, our relationship manager will guide and help you to make a hassle-free investment.

While investing in company deposits, it is important to know if there is a lock-in period and for how long that lock-in period lasts. This is so because you would not be able to take your invested money out for the period there is a lock-in on those investments. Generally, Company Fixed Deposits have a shorter lock-in period than banks.

The interest payout from a company deposit can be cumulative (at the time of maturity) or non-cumulative. In case of the latter, the typical payout frequencies which you can choose from are monthly, quarterly, half-yearly, or yearly.

You can get a loan against a company deposit. Though the actual amount may vary among loan providers, it is usually up to 75% of invested amount.

Company Fixed Deposits offer the benefit of reduced risk as they are backed by reputed rating agencies.
Armed with this information, you can confidently assess and invest in company fixed deposits that meet your objectives and opt for an investment tenure that gives your hard-earned savings an edge.
Speak to a relationship manager at RURASH now or reach out to us for more information on fixed deposits and bonds.