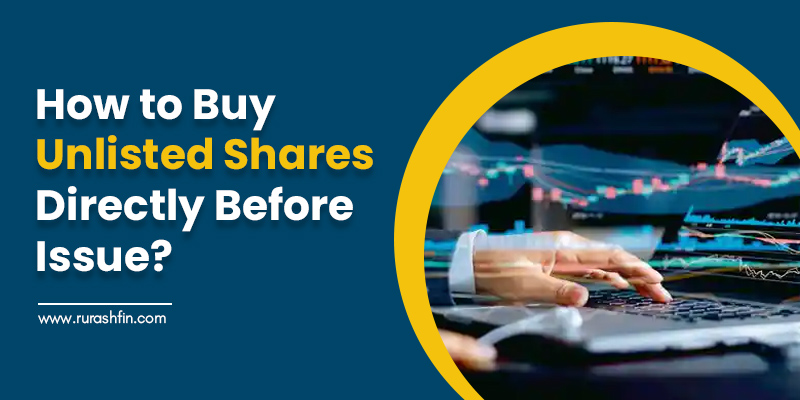 Rurash
05 Oct,2021 /
0 Comments
Table of content:
Introduction

Concept of unlisted shares of companies:

Why are investors influenced by unlisted securities?

Ways to invest funds in companies through unlisted shares

How to buy unlisted shares of Pre-IPO companies?

Companies available in India for unlisted equity investments.

Advantages to purchasing unlisted shares

Conclusion
Investment in the Indian financial system offers a wide range of instruments. From an organized listed market to an open OTC markets, investors can investtheir funds in any desired company. Every entity starts from an initial investmentthat requires some funds tobegin. Before company prepares for listing, a company passes through various process that include regulatory approval for the listing of the shares. In a pre-IPO phase, funds are raised through private sources from high net-worth investors, venture capitalists, angel funding, and other financiers. These investors  get direct equity allocation in the subject company 
A pre-IPO company with high-profit potential and a robust business model usually issues its shares to the investors before the company gets listed on the exchange. The investors, with high-risk potential and aggressive risk profiles, dispense their funds in these companies with a hope to earn a maximum profit. 
If you are going to invest in Pre-IPO companies' shares Prior to an IPO issue, then you have to do your due diligence on the company
Concept of Unlisted Shares of Companies
Unlisted shares are publicly limited companies that are not listed, pre-IPO company shares and startups. Companies issue equity shares in order to raise money from the investors. The market through which unlisted securities are offered to investors is considered as OTC- Over The Counter Market. 
Why are investors influenced by unlisted securities?
In this period of technological revolution, new ideas have turned into an entity. Hundreds of examples in different industries have captured a surprising market share, custom loyalty, brand image, and goodwill. These traits have opened a chance for these corporations to become an established revenue generating entity with immeasurable worth. Investors, with long-term financial objectives, provide capital after acknowledging the potential of these firms 
The following points motivate investors to put their funds in unlisted shares:
Mesmerizing brand value and high fundamental matrix.

Potential to grow rapidly in future.

Strong technological adaptation skills and other strengths of a company.

No fluctuations in the share value as the securities are free from market forces.
Reach out to an expert now to request a brochure, testimonies and even the research reports. 
These factors impact the decision-making regarding buying of stocks from Pre-IPO companies. Before purchasing unlisted shares, an investor needs to know the ways available for them. Book a call with an expert now.
Ways to invest funds in companies through unlisted shares:
If you are an investor, then several methods are accessible with which you can buy shares without any stock exchange. These are some methods:
Invest in start-up and Pre-IPO companies:
Investing funds in Pre-IPO companies and startups are available for investors without the need of any stock exchange. You can get the stocks directly in your demat account after buying without any involvement in the stock exchange. This type of investment is off -records. All you need is to have a trustworthy intermediary that ensures a complete investment process. If you want to invest your funds in High-tech startups by considering the potential of manifold growth, then you can purchase shares directly from the founders through intermediaries. In these companies, you can invest as much as possible, but most companies restrict the minimum investment by Rs. 50,000.
Share purchase from promoters or through private placement:
According to section 23 of the Companies Act, 2013, a private company cannot issue shares publicly. In this case, companies before listing, use private placement methods. You can reach investment banks, merchant banks,and other financial firms to assist in buying shares from promoters. These financial entities research different companies' share prices, buying methods for investors. You can contact promoters to avail an offer to buy their shares.
Employee stock ownership plan purchasing:
In the ESOP plan, companies' founders offer shares to their employees as a result of their firm determination toward the company. The Securities and Exchange Board of India has made some relaxing norms regarding lock -in period for pre- IPO companies. You can invest the shares directly from employees of the desired company. 
How to buy unlisted shares of Pre-IPO companies?
As the shares of these companies are not available through organized exchange, multiple consultancies offer the research and consultancy service to investors like you. You can explore a list of unlisted shares available in India with these service providers. After selecting the best company in terms of profit, market share, and future potential, you can make an offer with these consultancies to buy shares. 
In India, various firms are providing research and analysis services along with a list of companies that offer shares without the IPO process. You can reach these companies in order to get an off-radar share.
Companies available in India for unlisted shares:
 After getting information regarding multiple aspects of unlisted shares, you can select a company to buy share among these:
Rurash Financial Private Limited

Motilal Oswal Home Finance Ltd.

Fino Paytech Ltd.

Indian Commodity Exchange Ltd.

HDFC Securities Ltd.

Suryoday Small Finance Bank Ltd.

One97 Communication Ltd-PayTM

National Stock Exchange of India Ltd.

Capital Finance Bank Ltd. and others.
These are some companies that are offering their shares prior to an IPO process through private placement. You can make a contact with an investment bank, merchant bankers, and brokers that help you to make purchases of shares. 
Advantages to purchasing unlisted shares:
Pre-IPO or unlisted shares of companies present many advantages to the investors that hold the shares prior to an official initial public offering. Some advantages are:
If you hold the stocks of a company prior to being a public entity, then you would get a chance to become a shareholder after issuing securities to the public through an IPO. 

Investment in high net-worth and growth potential firms ensures you heavy returns. Moreover, the potential to become a renowned company in future gives you surprising wealth to fulfill your long-term financial goals.
These advantages/ benefits are an important point to make decisions regarding buying or selling the shares from unlisted companies.
Conclusion:
Unlisted shares are the ownership securities that are issued by non-listed companies. To expand business operations and extend market share, companies and start-ups issue shares to inventors privately. Various options like employee stock ownership plans, private placements, purchase through promoters and others are available to investors for buying shares of these companies. By keeping in mind the benefits of unlisted shares, you can avail of services of any investment or merchant bank, broker, or consultant firm for making a purchase decision for these shares. In India, many companies are offering their shares that you can buy to become a shareholder. 
At RURASH, we will hand hold you through the process after careful consideration of both your financial and wealth objectives. 
Also Read: Are Unlisted & Pre IPO Shares must to have in Portfolio? How to get the best deals on Unlisted and Pre IPO shares.