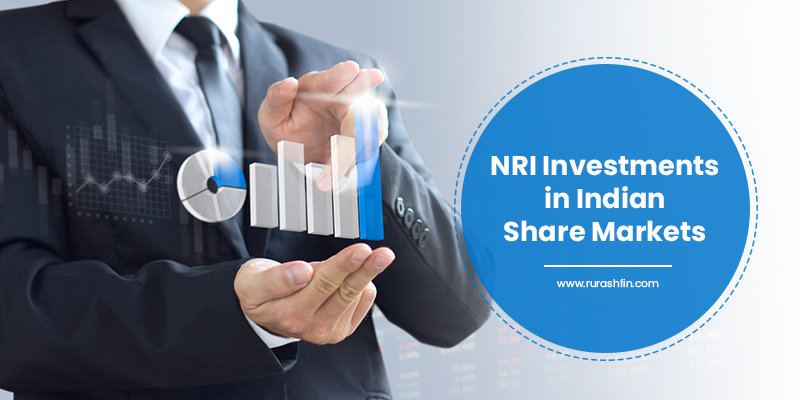 Rurash
25 May,2021 /
0 Comments
The investor base of the Indian stock market has been steadily rising. This provides NRIs with plenty of investment avenues, the stock market being one of the most profitable ones. On that note, we're going to cover some essential tips for NRI investments in Indian companies. Let's explore
Getting Started with NRI Investments in Indian share markets
The primary prerequisites for getting started with NRI investments in Indian share markets include an NRO and an NRE account along with a Demat & Trading account. The next step is to seek permission from the RBI to invest. This calls for a PIS approval. You can hold your funds in an FCNR account with an Indian Bank in a foreign currency and convert the same to Indian currency for Indian investments.
 Here are the top 5 tips for NRI investments in the Indian share market that will make your investment process smoother. When you invest with experts like RURASH, technically you increase the likelihood of better returns.
1.
Understanding the Regulations
 Since everything is cross-border, it's vital to get a hold of the underlying rules and regulations when you are investing. Adhering to the regulations set by FATCA is essential. There have been plenty of cases where non-compliance leads to unexpected obstacles when it comes to NRIs investing in the stock market in India.
 Consulting investment experts can greatly simplify this process for you since they have already been in the NRI investment services domain. Moreover, impeccable fin-tech services will guide you through the process and help you accomplish your investment goals.
2.
Choose the Right Stock Market Expert
While we always recommend performing basic research, seeking help from professionals gives you competitive advantage. You should always have a customized financial plan catered specifically to NRIs if you are thinking about investing in the Indian stock market.
 Stock market experts can assess your risk appetite and suggest investments accordingly. They will also help you devise a plan to increase your chances of financial growth. Remember, stock market investments can be a rough journey for NRIs if you don't have a financial advisor or a trusted stock market expert guiding you towards your destination.
3.
Ensure Your Investment Partner Has Technological Backup
 An ideal combination of services would be to opt for one that combines financial knowledge with sophisticated modern technology. Your investment partner should not only be able to leverage the power of technology but also be able to offer better, secured and world class investment experience. 
4.
Try To Determine Where You'll Stay After Retirement
 It might seem far-fetched, but if you determine where you are going to stay after retirement, it will help you customize your stock market investments in India. If you plan on living abroad, your approach has to be more growth-oriented considering the high cost of living. On the other hand, if you ultimately decide to spend your post-retirement years in India, you can diversely invest in Indian equity funds.
 Always remember that if you plan on retiring in India and continue investing abroad, currency fluctuations might expose you to some financial risks. However, if you are not sure where you see yourself after retirement, diversify your investment portfolio. You might even want to add mutual funds along with share market investments to your portfolio.
5.
Diversify But Don't Over diversify
 Investments can be volatile when it comes to investing in the stock market, let alone investing with international borders in the way. Your first instinct might tell you to diversify to an extent that eliminates as many risks as possible, but if you pay heed to the advice of a seasoned share market expert, diversification might prove to be a better alternative.
Arriving at the most optimal diversified portfolio is where the skillset lies.Invest in a combination of stocks, bonds, securities, commodities, and so on. Shortlist asset classes with the help of your investment partner for a balanced portfolio.
NOT ABLE TO UNDERSTAND THE ABOVE PARA
Additional Tip:
Always take the following services into account before investing in the Indian share market.
Cross Border Remittance

Taxation and compliances

Trustee services & Transmission.

Financial Concierge services
Besides providing the above-mentioned services, Rurash Financials takes care of your entire investment & documentation process.
 Our NRI Investment services also include a detailed set of processes beginning from risk profiling and going till succession planning. Rurash offers a plethora of services under the exclusive financial concierge for NRI investors. The processes for NRI Investments in Indian share markets are curated as per our experience of serving the second and third generations of huge family offices based in the UK, USA and Middle east. Our NRI investors base also include the Indian expats and professionals settled abroad.
 Additionally at Rurash, you receive help with all your financial services requirements as a subscriber of our exclusive financial concierge for NRIs.
Conclusion
Considering the obvious demographic advantages and lucrative returns, NRIs should definitely consider allocating their investments in Indian economy. Whether you are planning to settle abroad or return back home(India) after retirement, it's a win-win both ways. Investing in the Indian share market increases the likelihood of a comfortable retirement free of financial pressures & Liabilities
 Last but not least, before investing, get in touch with a trusted investment partner. At Rurash Financials, we have a dedicated team of experts for Investments, retirement planning, and assisting NRIs in every step of investing in the Indian stock market. So, what are you waiting for? After all, when it comes to investments, sooner is always better!
Related: Best Investment Options for NRIs in 2021